German Shepherd Country founder, Amy Morford, has been training dogs for over twenty-five years. Amy specializes in obedience, dog behavior modification, and working breeds. Amy is passionate about German Shepherds but is a dog lover in general.
Amy's love for dogs started at age five when her parents brought home a six-month-old Airedale Terrier. Amy had a speech impediment as a kid and was very difficult to understand. Amy was teased in school and would become very frustrated when she couldn't communicate effectively. The Airedale became Amy's confidant and sounding board hanging on to her every word regardless of her speech issues.
Amy realized at an early age that a dog's love is simple, loyal, and unconditional.
Over the span of Amy's childhood her family had three dogs. Two of them didn't travel well in the car and none of them listened when it came to obedience. Amy grew up in the country and the only time a collar and leash were put on a dog was to go to the vet. Obedience wasn't a big priority to Amy's parents. Around the age of nine, Amy vowed to herself when she had a dog of her own it would be well-mannered and obedient.
Out on her own Amy's first dog was an eight-week-old German Shepherd puppy she named Hannibal. Amy kept her promise to her younger self and took him everywhere and trained him. Puppy socialization, people socialization, basic obedience, advanced obedience, personal protection, tracking, air scenting, sport work, agility, and the list goes on.
The more Amy did with Hannibal, the more she wanted to know, the more she wanted to learn. She began reading dog training books, going to seminars, shadowing trainers, learning about drives, behavior, and body language.
Amy graduated from California State University at Sacramento with a B.A. in Psychology, rather than analyze human behaviors she steered her interest in understanding dogs.

Over the years Amy has assisted dog owners with raising and training well-mannered and good-tempered pets. With the right training and a little patience, Amy believes a happy, healthy, and well-adjusted companion and friend can be had from any dog.
Amy became inspired to use her dog knowledge and expertise to reach as many people as possible. In 2009, she began blogging to share her knowledge with dog owners around the world. Amy realized the majority of her content concentrated on her favorite breed and in 2015, GermanShepherdCountry.com was born.
GermanShepherdCountry.com educates people on the intelligent, loyal, fearless and devoted German Shepherd Dog. The publisher of The Dogington Post regards Amy Morford as a leading expert on German Shepherd behavior modification and training.
GermanShepherdCountry.com is committed to entertaining guests with current news stories but takes pride in providing valuable information on training, health, diet, and behavior issues specifically for German Shepherd owners.
Amy doesn't just talk about the German Shepherd Dog — She owns, trains, and loves everything about the German Shepherd Dog!
Contact Amy: amy@germanshepherdcountry.com
Connect with German Shepherd Country on Social Media:
Facebook: https://www.facebook.com/germanshepherdcountry
Instagram: https://www.instagram.com/germanshepherdcountry
Pinterest: https://www.pinterest.com/GSCountry
GermanShepherdCountry
The Premier Place for German Shepherd Lovers!

Amy has your dog training and health needs covered from puppyhood to senior dogs. Be sure to check out everyone's favorite German Shepherd Pup Pup, in The Pup Pup Series.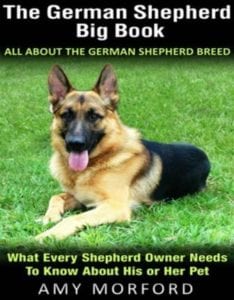 The German Shepherd Big Book: All About the German Shepherd Breed
The German Shepherd Big Book is not intended as a training guide. It was created to help you figure out if a German Shepherd is a breed for you. This book will familiarize you with the German Shepherd's background, main characteristics, dominant traits, and health concerns.
The book kicks off with a fascinating history of the breed. The second chapter examines the time, money, energy, and lifestyle required to meet the needs of a German Shepherd. To assist in selecting your first German Shepherd, the author compares and contrasts American versus German bloodlines; male versus female: a puppy versus an adult dog; various coat types and colors; and breeder versus rescue adoption.
Two must-read chapters concern how to select a breeder and common health problems experienced by the breed. Don't buy a German Shepherd without reading those chapters! The last two chapters burst with valuable factual information, terms, and resources you'll need to know about if you do decide to adopt a German Shepherd.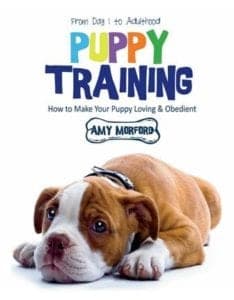 Puppy Training: From Day 1 to Adulthood
How to Make Your Puppy Loving and Obedient
If you are interested in learning how to get your puppy acclimatized to its new surroundings and properly trained, Puppy Training from Day 1 to Adulthood is the book you need to have in your collection.
This book explains what needs to be done from day one and author Amy Morford is well aware that the process takes time and reminds the new puppy owner of this throughout the book. Puppy training does not happen in a day or even in a week.
For sound advice and some great tips to help you and your puppy, this book is highly recommended.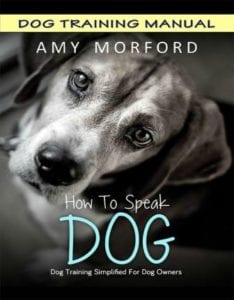 How to Speak Dog: Dog Training Simplified for Dog Owners
Author Amy Morford understands that not everyone understands "dog talk" so she kicks off by introducing basic obedience training methods. She explains each training situation by breaking it down into chronological micro-steps.
How to Speak Dog is as close as one gets to hiring a dog trainer without actually hiring one. Morford has made the process as simple as possible, with six chapters written in "plain English" to eliminate ambiguity so the training process is easy and less stressful for both the teacher and the student.
In addition to covering basic training and the elimination of problem behavior patterns, Morford discusses clicker training, crate training methods, and the use of positive reinforcement.
If you've been struggling to resolve problem dog behaviors or just adopted a new dog and want to be sure that your new household member is well-behaved and well-trained, you've got to learn "dog talk."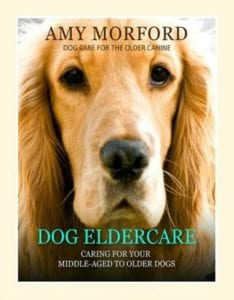 Dog Eldercare: Caring for Your Middle-Aged to Older Dog
To address the changing needs of middle-aged and elderly dogs, this book offers comprehensive information and tips to keep your dog healthy, happy, engaged and as active as possible during his or her twilight years.
Dog Eldercare: Caring for Your Middle-Aged to Older Dog will help dog owners understand the aging process of their pet. To take optimum care of an aging dog, owners need to be prepared for routines like diet, exercise and health needs to change radically as their dog ages.
This guide will help you provide compassionate care for your canine "best friend" as he or she evolves from puppy or young adult into a dignified and happy senior companion.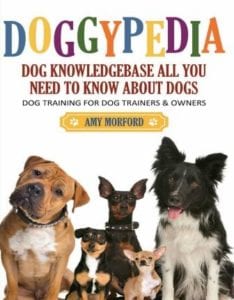 DoggyPedia: All You Need to Know About Dogs
DoggyPedia: All You Need To Know About Dogs is an A to Z comprehensive guide covering all of the major (and minor) issues related to dog training—starting from puppyhood and extending well into the twilight years.
Using "plain English" Morford carefully explains the dog training process while teaching readers how to train their canine companions to obey simple commands. Once the foundation is set, she devotes multiple chapters to discussing specific negative behaviors while providing detailed solutions.
The final chapters brim with essential information on how to care for faithful companions who have transformed from spunky energetic puppies to more fragile and aging "best friends." From special senior dog grooming tips to vet care options and necessities for older canine companions, it's all here!
Choosing a pet's name is a daunting task. Amy Morford's Pet Names and Numerology: Choose the Right Name For Your Pet makes the tricky task of selecting the most suitable pet name a lot easier. Morford says, "Your pet's personality can be influenced by what you name it. Their natural temperament will count for approximately 70% and the name you choose will count for approximately 30%."
Morford shows you how to analyze your pets name using the Pythagorean System number chart to correlate each letter of the alphabet to a specific number. Then, she illustrates how to break down the total sum of the numbers into a singular number which is used to analyze the influence of your pet's name on his or her behavior.
It's all very intriguing and a lot of fun.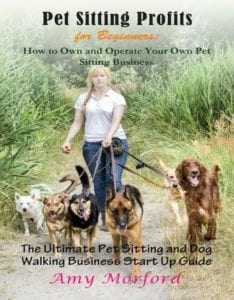 Pet Sitting Profits for Beginners: How to Own and Operate Your Own Pet Sitting Business
Amy Morford knows what it takes to succeed in a pet-related business and understands why others would be motivated to launch a pet sitting or dog walking business. It's admirable to dream, but will your dream of operating a pet sitting or dog walking business match the reality?
A pet sitting and dog walking business faces many of the same pitfalls that all service businesses do. You're going to have to wear your business hat, your sales hat, your customer service hat, and many other hats because pet sitting requires people skills and business skills as well as the ability to control and care for dogs, cats, and other pets.
To give you a realistic glimpse of what you'll encounter when you open your business' doors, Amy provides a detailed "real world" example of the events and challenges occurring during a typical day in the life of a pet-sitting business owner.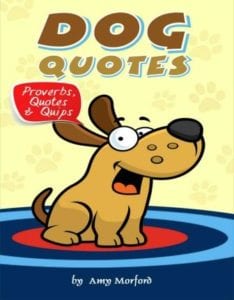 Dog Quotes: Proverbs, Quotes & Quips
Dog Quotes: Proverbs, Quotes & Quips is a bountiful treasure trove of over 250 popular proverbs, insightful quotes, and cunning quips. Filled with beloved popular sentiments and lesser-known gems of dog-loving wit and wisdom, this book is a great read or thoughtful gift for anyone who has been enthralled by "Man's (and woman's) best friend." If you are as devoted to your dog as he or she is to you, this smile-inducing read will make you laugh and nod your head in agreement as you turn through page after page of spot-on quotes about dogs—our wild, wacky wonderful and much-beloved canine companions.
With so much to choose from, you're certain to find one or two quotes that are particularly touching or moving, making it impossible to resist sharing those quotes with fellow dog lovers at the local dog park, vet, or dog grooming salon!

The Pup Pup Series is an educational, fun way to tap into children's natural love for animals and is especially useful for parents with children interested in adopting a pet. Designed for children ages 3 to 6.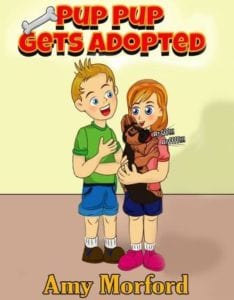 This charming, realistic depiction of one family's canine adoption experience and about the rewards and responsibilities connected to adopting a family dog.
Pup Pup is an adorable German shepherd puppy who just happens to attract the attention of little Scarlett her parents and Brother Zak. All of the puppies there have distinctly individual personality traits such as shyness, aggressiveness, and friendliness but it is the puppy that is running around chasing his tail that Scarlett singles out.
The whole family loves the charming, gentle puppy so they decide to take him home. Of course, it takes a little time for Pup Pup to settle into his new home but the family has all of the right elements in place to make him comfortable: a collar, bed, special food, water, and lots of love!
Now that Pup Pup has settled in with his new family, it is time to attend to the tricky matter of getting Pup Pup to the veterinarian for his first medical check-up. Pup Pup is a lucky puppy because medical care is essential for puppies and dogs and his family loves him enough to make sure he's getting the healthcare he needs.
Pup Pup's First Dr. Visit helps children understand why their beloved dog or puppy needs to visit the veterinarian to prevent health problems. It will help ease the anxiety they feel and help them understand how to support their dog or puppy during a visit–just as Scarlett and Zak do. Pup Pup is an adorable puppy and it's great fun to accompany him as the Pup Pup saga continues to unfold with his loving new family.
When Pup Pup first ventures into the cold snow he's a wee bit unsure and intimidated by all of the cold, white stuff he sees in the yard. But after Zak lets him sniff it, and rubs a little of the snow in his face, Pup Pup realizes that it's not so bad after all. Besides, he's got a heavy fur coat to keep him cozy and warm.
Before you know it, Scarlett, Zak and Pup Pup are playing games in the snow and having lots of fun!
Pup Pup's First Snow Day is a wonderful way to welcome in the winter season! Grab a mug of hot chocolate and cuddle together on the sofa to experience winter's first snowfall along with Pup Pup, Scarlett, Zak, and their Mom and Dad.
Pup Pup hasn't had to share his toys or food with a canine brother or sister and he hasn't met up with any neighborhood dogs. But things have a way of changing and the day finally arrives when Pup Pup is introduced to a charming Labrador retriever named Chickie Bunny.
Naturally, Pup Pup jumps for joy at the sight of Chickie Bunny because he's finally snagged a play date with someone who acts and looks a lot like him. She's got a tail just like he does, and she walks on all fours—except that she's a female yellow dog with fur that's the color of the sun.
How does the play date go? Children will have plenty of fun finding out, as they read along to find out how Pup Pup's play date with Chickie Bunny turns out.
Grab a plate of cookies and enjoy another heartwarming Pup Pup story.
The latest Pup Pup adventure unfolds during springtime, as Pup Pup enjoys the grass, blossoming flowers, and dirt that was nowhere in sight during the harsh winter months.
Pup Pup's thick winter coat is getting lighter and shedding and he notices that rain is replacing the snow that he's grown accustomed to seeing during the winter.
As the story unwinds, Pup Pup has a lot of fun sniffing around the garden as the flowers and vegetable plants grow. It's a lot of fun to read about Pup Pup and his family as they cultivate the family garden and share its bounty when the crops are ready to be eaten.
Pup Pup Helps in the Garden is a wholesome story about a loving family, their dog, and a memorable springtime gardening adventure.
Everyone knows that Halloween is a fun night for humans and "children" of all ages to dress up in their favorite fantasy outfit. But to a newly adopted dog like Pup Pup, Halloween can be downright scary. Dogs always wear the same fur coat so Pup Pup is wary when he spots a fireman, a green-faced woman dressed in a long black dress, and a boy in a cowboy hat and boots, lurking in his familiar house. Who are they? When did they arrive? Pup Pup thinks they look familiar but they're dressed quite strangely!
Will Pup Pup survive his first Halloween night? Will, he ever see his beloved family members again? Pup's Pup's First Halloween is filled with scary drama, but it's also an educational lesson about the way that dogs view the "normal" holiday rituals that humans take for granted.
Pup Pup's First Halloween is a fun-filled holiday treat that's full of empathy and sympathy for Pup Pup. Best of all, there's a warm and fuzzy ending!
In Pup Pup's First Thanksgiving, Pup Pup learns about Thanksgiving traditions as his adopted family prepares to celebrate this uniquely American holiday.
Pup Pup notices that Mom, Dad, Scarlett, and Zak are acting very excited about Thanksgiving. They keep talking about pumpkin pie and eating vegetables from the garden.
Pup Pup knows what a pumpkin is because he saw a carved pumpkin sitting on the porch on Halloween. But it didn't look very tasty and Pup Pup can't help but wonder why Zak keeps talking about how he can't wait to eat pumpkin pie.
Finally, Pup Pup finds out what Thanksgiving is really all about! As Pup Pup and his family members gather around the table on Thanksgiving Day, Pup Pup learns the true meaning of Thanksgiving. It's about so much more than just eating tasty food.
Christmas and puppies! Combine those two themes and you've got an irresistible children's book that is fated to become a Christmas classic.
From the day Pup Pup the German Shepherd was first adopted, he has always been treated as a member of the family. Now that it is December, Mom, Dad, Scarlett, and Zak went out in the snow to purchase a Christmas tree to decorate with colorful shiny objects. Of course, Pup Pup had never seen a tree living indoors before so he couldn't help from wondering what his adopted family was up to.
Scarlett and Zak tell Pup Pup about Santa and give him a gift-wrapped present. Pup Pup is excited and can't wait for Christmas to finally arrive so he can open his present and learn more about this mysterious holiday.
Can you feel the love? Pup Pup, as usual, is trying to figure out what is going on, because this is the first year that he's lived with his new human family and they are always springing wonderful surprises on him. Now he's about to learn all about St. Valentine, the mysterious mythical figure who inspired Valentine's Day.
Join Scarlett, Zak, Mom, Dad, and Pup Pup as they create heartwarming Valentine's Day cards, including a special card with Pup Pup's paw print signature! Thanks to his adopted family, Pup Pup soon learns that Valentine's Day is a wonderful opportunity to show your appreciation to teachers, special friends, sisters, brothers, parents, and just about anyone you love.
There's a warm and wonderful message woven throughout this heartfelt story that is certain to stand the test of time. Your child will "heart" Pup Pup's First Valentine's Day and want to read it again and again.
Pup Pup's First St. Patrick's Day
It has been a long winter but March has finally arrived. Pup Pup's adopted family is excited about two special occasions—the first day of spring and St. Patrick's Day. On the 17th day of March, Pup's Pup's entire family dresses up in green clothing because it is a St. Patrick's Day tradition to dress in green. Can dogs celebrate St. Patrick's Day? Of course, they can!
Curious Pup Pup listens as Mom, Dad, Scarlett, and Zak talk about mysterious leprechauns and dancing fairies. They talk about pots filled with gold and the pretty, green three-leaf clovers that grow all over Ireland. Best of all, he watches as Mom cooks a new type of food that he has never smelled before. It is called corned beef and cabbage and it smells delicious!
Join in on the fun as Pup Pup and his family dance to Irish music, eat Irish food, and celebrate everything Irish!
Why are brightly colored eggs suddenly popping up around the house? Chickens don't lay boldly colored eggs! Super cute German Shepherd, Pup Pup, senses that something is up.
Mom, Dad, Zak, and Scarlett are busily preparing for a holiday called Easter. They inform Pup Pup about a mystical creature called the Easter Bunny and tell him that they are all going egg hunting soon.
It's great fun to read along as Pup Pup learns about the historical origins of Easter and its connection with spring. His family also teaches curious Pup Pup about bunnies, chocolate, eggs and all of the other good things associated with Easter.
Hop to it! It's great fun to join Pup Pup and his family as they celebrate the special spring season of renewal, rejuvenation, and rebirth.