Famous German Shepherd Dogs have a history that is rich in bravery, heroism, and television/movie stardom.
It is common to see German Shepherds as K9 officers for police agencies and the military because of their temperament and intelligence.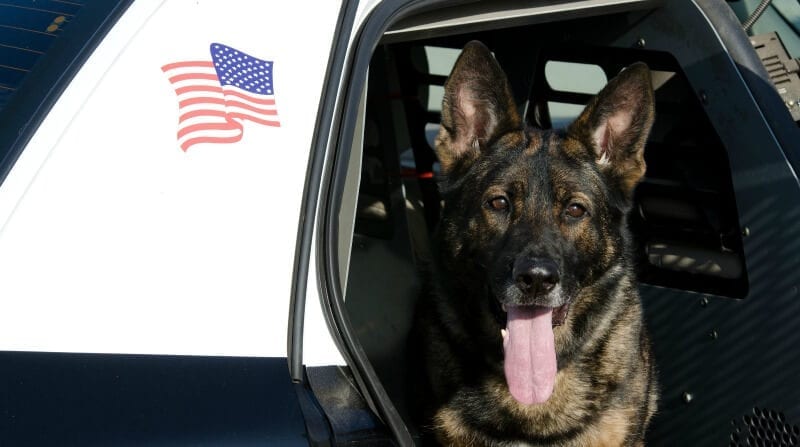 Listed below are some of the most famous German Shepherds:
The First German Shepherd Dog
Horand von Grafrath
Horand von Grafrath born, on January 1st, 1895, was the first German Shepherd Dog and the genetic basis for modern German Shepherds.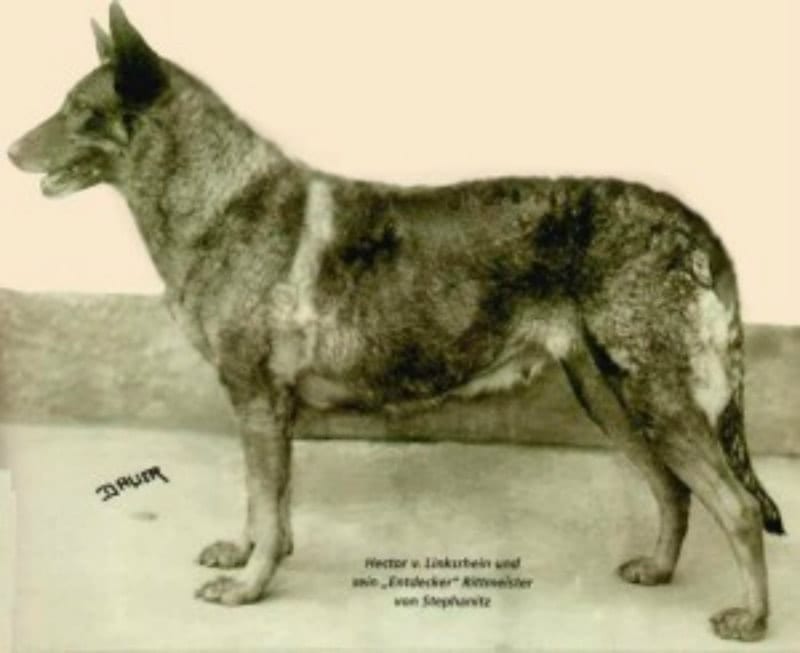 During that time, there was a society named the Phylax Society, with the intention of standardizing dog breeds.
The society had dispersed before Horand was born, but many of the members continued to live out its ideologies.
One of these members was Captain Max von Stephanitz, the man who is now believed to be the father of the German Shepherds.
Many breeders thought Horand was an example of what a well-rounded working dog should be.
Horand's most celebrated offspring was Hektor von Schwaben, who later produced Heinz von Starkenburg, Beowulf, and Pilot.
These three studs were used in later breeding programs; their progeny are thus the ancestors of all modern German Shepherd Dogs.
Famous German Shepherd Dogs in Movies
Strongheart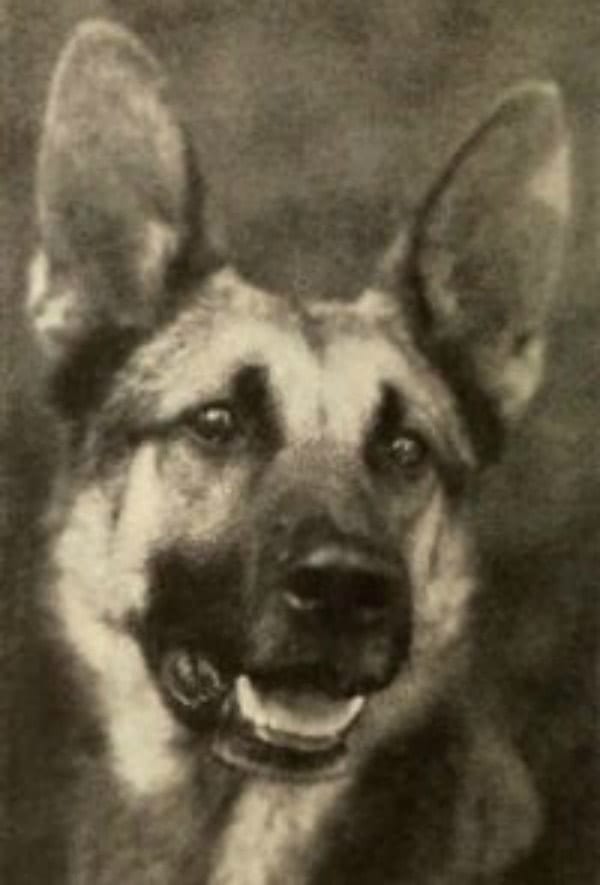 Etzel von Oerigen was a male German Shepherd who was born, on October 1st, 1917, he was more well-known on-screen as Strongheart.
He was one of the first doggie film stars. He was brought to the states by the age of three after being trained in Germany as a police dog and working at the German Red Cross.
Strongheart and his mate, Lady Jule, had many offspring, and their line survives to this day.
Rin-Tin-Tin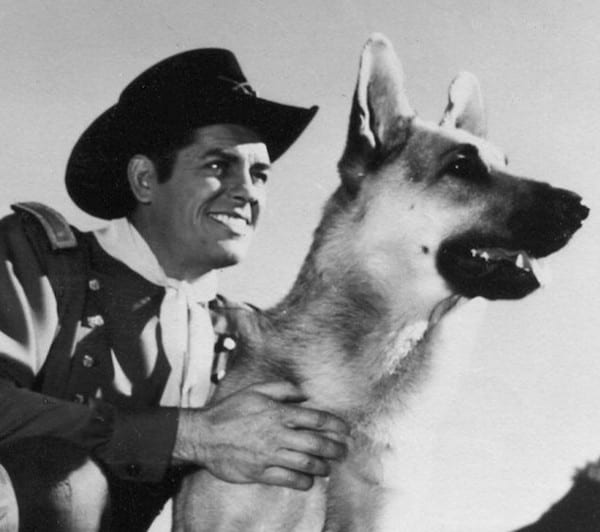 Rin-Tin-Tin was a German Shepherd that was born in September of 1918. He was made famous as the German Shepherd, who was saved from a WWI war zone by an American soldier, Lee Duncan.
Duncan trained Rin-Tin-Tin, which resulted in the pup obtaining film work, and he was an immediate box office hit! Rinty, as Duncan nicknamed him, went on to appear in 27 Hollywood films, gaining fame all over the world.
At one point in his career, he received around 10,000 fan letters a week and was even considered one of Hollywood's elite stars.
Famous German Shepherd Dogs on TV
Bullet the Wonder Dog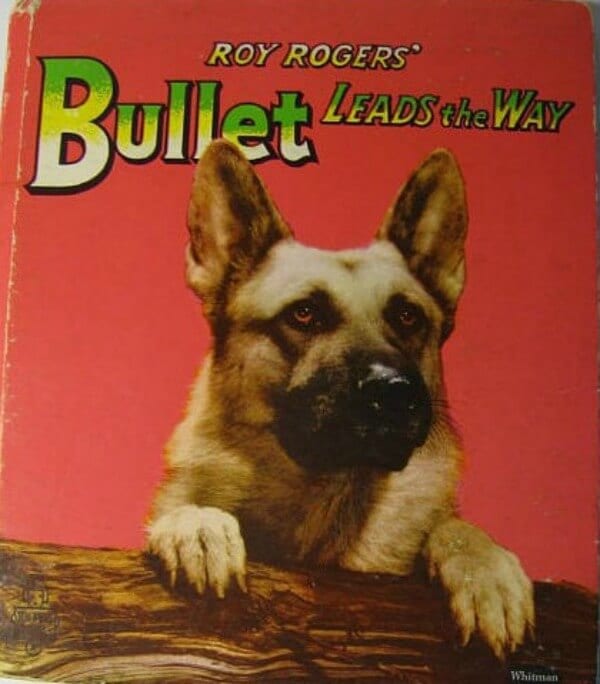 The black and silver German Shepherd, named "Bullet The Wonder Dog," was a character that appeared regularly on the Roy Rogers Show, which aired between 1951 and 1957.
When he wasn't performing, Bullet was busy being the pet of the show's married stars Roy Rogers and Dale Evans.
The show was an action Western with a lot for a good and honest dog like Bullet to do.
The Wonder Dog, alerted Roy when the bad guys were around, he ran after the "black hats," and he came to the rescue of Dale and Roy when needed.
Max the Bionic Dog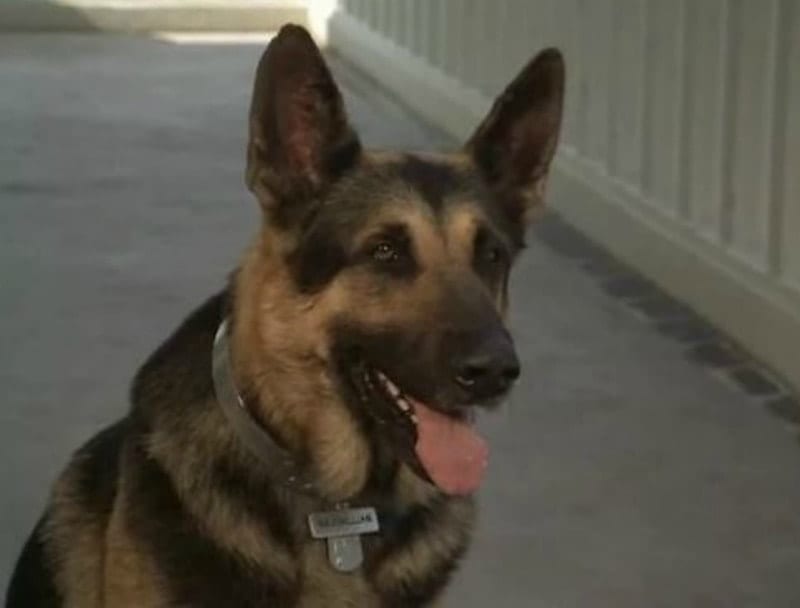 Maximillion was a German Shepherd who played the bionic dog from the third and final season of The Bionic Woman.
In the show, Max, as he was nicknamed, has four bionic legs and a bionic jaw. He could run up to 90 miles per hour and bite through solid steel.
He was also very heroic; despite his health issues, he never hesitated to rescue those in need.
Famous Military German Shepherds
Chips – Military Hero Dog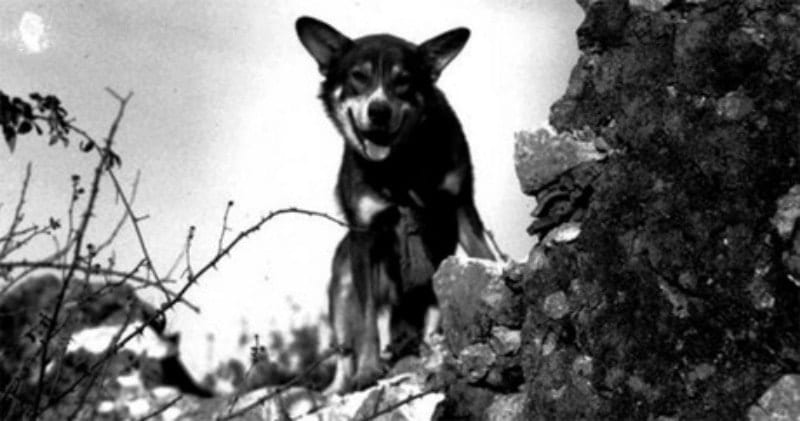 Chips, from New York, a mixed breed of German Shepherd, Collie, and Siberian Husky, lived with the Edward Wren family.
Chips was the most decorated war dog from World War II. During the war, many individuals donated their dogs to war duty.
Chips was trained as a sentry dog. After only one year of training, Chips and his handler were being shot at on a beach in Sicily by an Italian machine-gun team.
Chips broke free from his handler and jumped in at the shooters, they were forced to leave and surrendered to US Troops.
Sentry Dog Nemo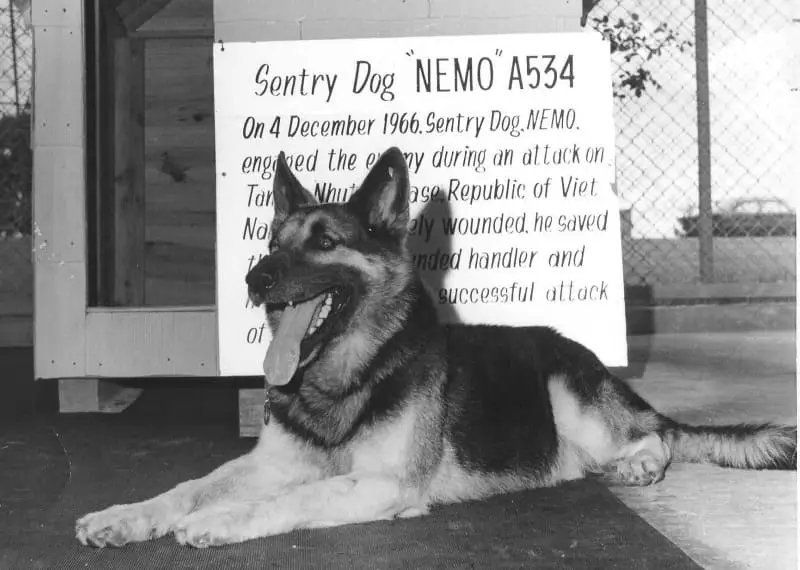 In 1966 on Tan Son Nhut Air Base in Vietnam, K-9 Nemo and his handler, Robert Throneburg, had just started their patrol when the enemy fire began.
Throneburg released Nemo and returned fire. Throneburg was shot in the shoulder, and Nemo took a bullet that entered under his right eye and exited through his mouth.
Nemo ignored his injury and continued to attack the Vietcong enemy. Nemo's bravery allowed Thorneburg to radio for backup and save his life.
Severely wounded, Nemo crawled back to Throneburg and used his body to cover him. Both were rescued, but Nemo initially refused to let the rescue team near Throneburg.
Nemo and Throneburg were treated for their injuries before returning home to the United States with honors.
Nemo's injuries required numerous skin grafts to restore his appearance, and he was left blind in his right eye.
Nemo was one of the few K-9's to make it back from Vietnam. In 1967 Nemo was the first military dog officially retired from active service.
In December 1972, Nemo died at the age of eleven. On March 15, 1973, Nemo, the Vietnam War hero was laid to rest at the Department of Defense Dog Center.
Famous Military Belgian Malinois'
The Belgian Malinois is similar to German shepherds but smaller and more compact, with an adult male weighing between 64 to 75 pounds and a female weighing between 55 to 66 pounds.
Cairo the War Dog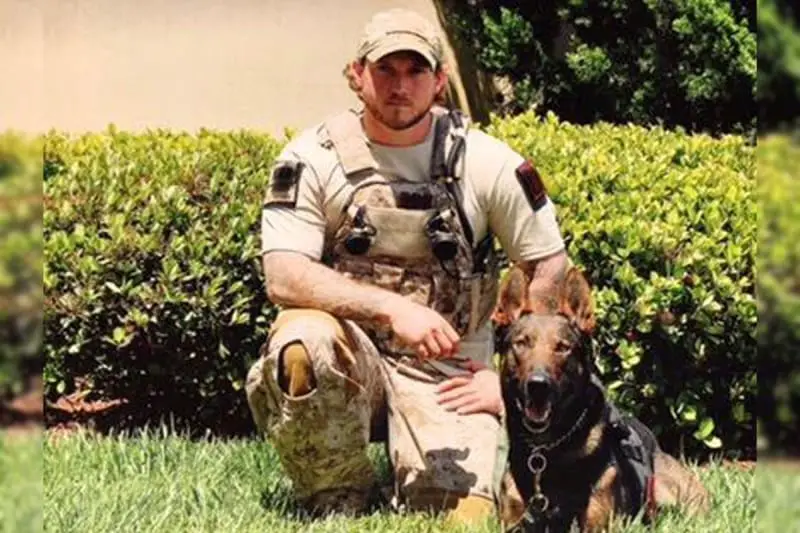 On May 2, 2011, the U.S. Navy SEALs invaded Osama bin Laden's Pakistan compound known as Operation Neptune Spear.
K-9 Cairo and handler Will Chesney were part of this elite team that killed Bin Laden and removed intel from the compound.
Thirty-six hours later, the SEALs were meeting with President Obama back in the United States.
Out of the 81 members of the super-secret SEAL DevGru unit that eliminated bin Laden, only one was identified by name: Cairo, the war dog.
Each SEAL member of the DevGru unit was awarded a silver star by President Obama. Each member except Cairo.
"It was a disappointment to me," Chesney tells The Post. "He was every bit as important to the mission as anyone else. He risked just as much."
Service dogs are currently not allowed to be recognized with military awards per the Department of Defense.
In 2013 Cairo was retired, and in 2014 Chesney was able to adopt him and officially make Cairo his.
Chesney and Cairo's reunion would be short as Cairo had to be put down on April 2, 2015, due to failing health.
Learn more about Cairo.
Chesney has since written a book about Cairo and describes it as, "This is not a SEAL book, and it's not a dog book. It's a story about friendship."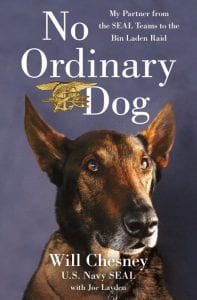 Click Here to Purchase
ISIS Dog Conan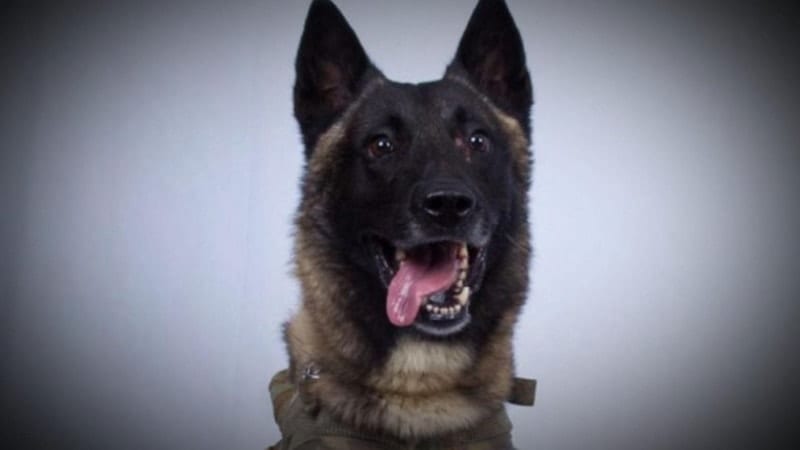 On October 26, 2019, United States special forces operatives conducted a daring nighttime raid in northwest Syria with one mission – to capture or kill the leader of the ISIS caliphate, Abu Bakr al-Baghdadi.
These brave members of the most elite unit in the United States military included a Belgian Malinois named Conan.
Conan played a vital role in chasing down the ISIS leader before he blew himself up. Conan sustained minor injuries during the mission but quickly returned to active duty.
President Donald Trump immediately referred to Conan as a true American Patriot.
Like Cairo, Conan is not allowed to receive an official military award.
However, on November 25, 2019, Conan made his first public appearance at the White House.
President Trump praised Conan's heroic actions and awarded him a certificate, a plaque, and a medal that will be displayed at the White House.
Learn more about Conan.
Famous German Shepherd Dogs in History
Buddy – The First Seeing Eye Dog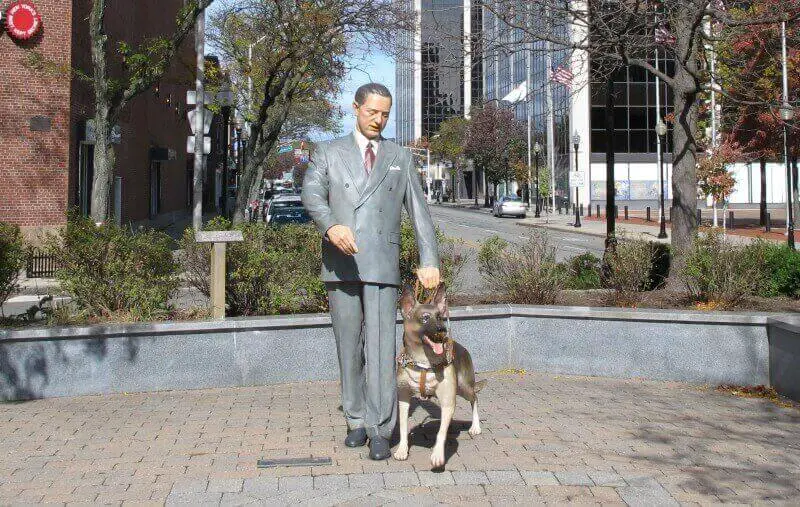 "Buddy delivered to me the divine gift of freedom," said Morris Frank (1908-1980), the first American to benefit from a Seeing Eye dog.
A woman named Dorothy Harrison Eustis, living in Switzerland who was training German Shepherds to work as police dogs, had asked about a program evolving using dogs as guides for people who have lost their sight due to mustard gas.
Mr. Frank's father read this story to him, and Frank begged his father to contact the author and ask her to train a dog to help him.
Eustis obliged, and Frank was partnered with a female German Shepherd named Kiss, who he quickly renamed Buddy.
Apollo – 9/11 Search and Rescue Hero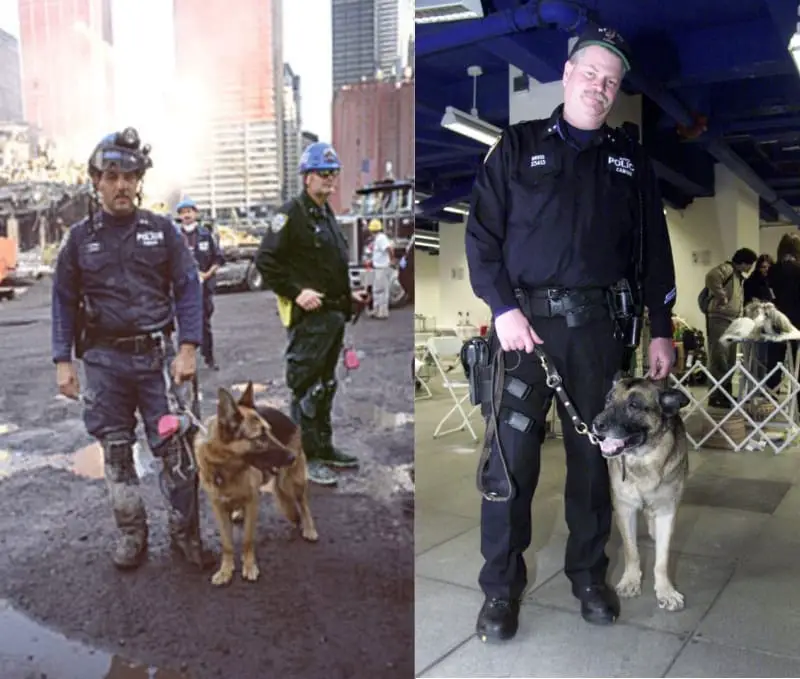 Two-year-old Apollo and his partner, Peter Davis, of the NYPD, were the first K-9 Search and Rescue team to arrive at the World Trade Center fifteen minutes after the south tower collapsed on September 11, 2001.
Apollo searched eighteen hours per day, looking for survivors.
Apollo was nearly killed by fire and falling debris but was determined to keep working.
Apollo was recognized with the Dickin Medal for his service during 9/11. The Dickin Medal is an elite award for working dogs that display devotion and bravery.
German Shepherd Rumor
In 2017 a female German Shepherd named Rumor was declared the best in show at the 141st Westminster Kennel Club Dog Show.
Rumor is only the second German Shepherd to be honored as the best of the best.
A German Shepherd nicknamed Hatter was the first GSD to win best in show in 1987.
h/t: Military.com
Commission Disclosure – Articles on German Shepherd Country are for education or entertainment purposes. We may earn a small commission (at no extra cost to you) if you shop through links on this page. If you choose not to use them, we hope you find the information helpful!