Dog shaming may or may not be funny at the moment, during the clean-up or replacement process, but it does give other dog owners a good chuckle.
Dogs having incidents of naughty behavior are bound to happen from time to time because, well, they're dogs.
Behavior such as stealing food, chewing belongings, or farting shamelessly can be upsetting, costly, or embarrassing.
Scolding your dog after the fact does little to no good in most cases. So what can you do? Shame them.
Dog shaming is intended for the internet to witness the shenanigans they've been up to. Dog shaming photos shared are often relatable and document how naughty, mischievous, and sly our four-legged kids can be.
We've scrubbed the internet to bring you the best German Shepherd dog shaming moments.
65 German Shepherd Dog Shaming Pictures
1. The Evidence is Clear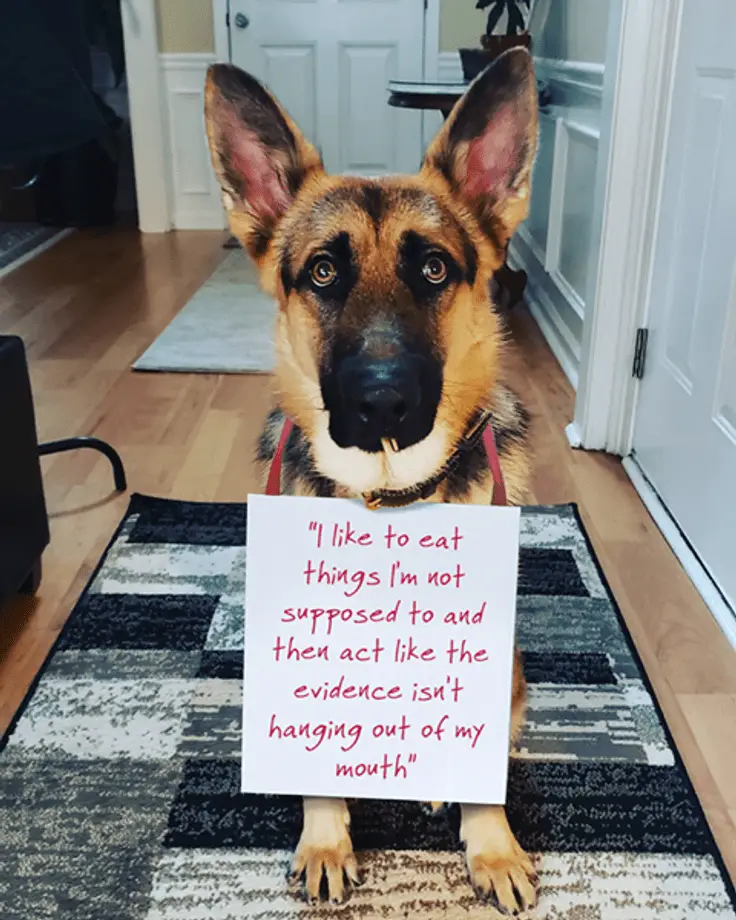 " I like to eat things I'm not supposed to and then act like the evidence isn't hanging out of my mouth."
2. Licker Problem
I lick the kitten till he's SOAKED.
3. Remodel Required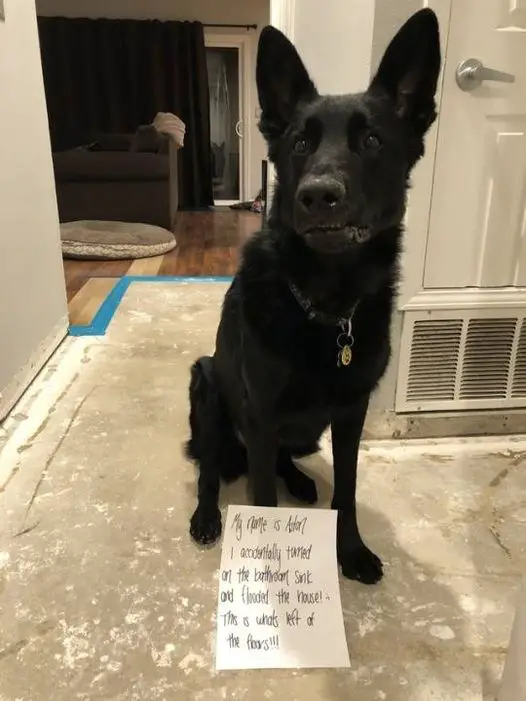 My name is Aston. I accidentally turned on the bathroom sink and flooded the house! This is what's left of the floors!!!
4. The Truth Comes Out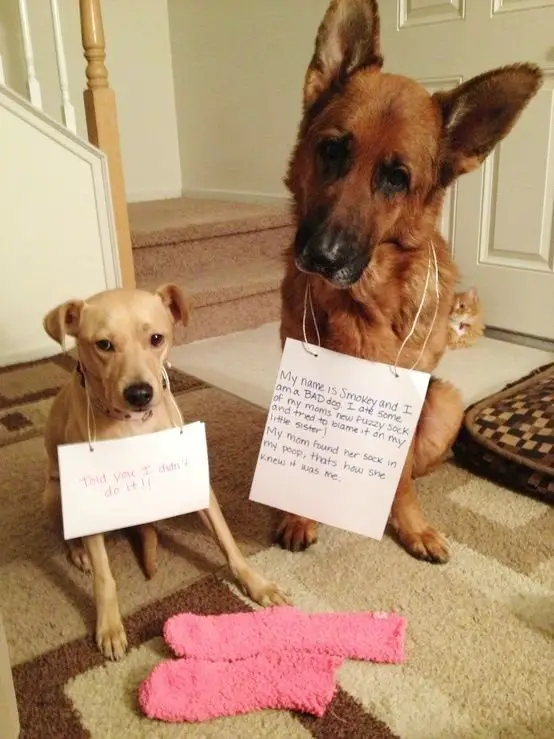 My name is Smokey, and I am a BAD dog. I ate some of moms new fuzzy socks and tried to blame it on my little sister! My mom found her sock in my poop, that's how she knew it was me.
Told you I didn't do it!!
5. Bah Humbug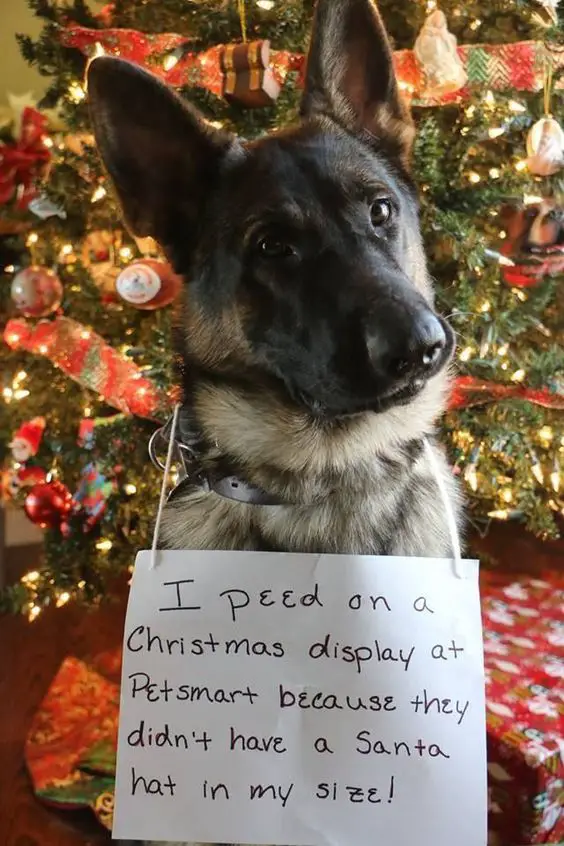 I peed on a Christmas display at PetSmart because they didn't have a Santa hat in my size!
6. Not Ready to Say Goodbye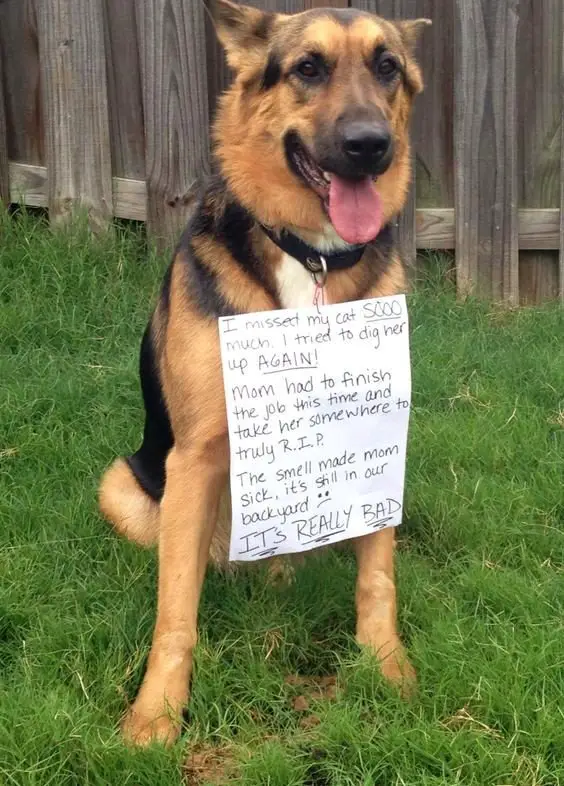 I missed my cat SOOO much. I tried to dig her up AGAIN! Mom had to finish the job this time and take her somewhere to truly R.I.P. The smell made mom sick, it's still in our backyard. IT'S REALLY BAD.
7. Can't Keep Me In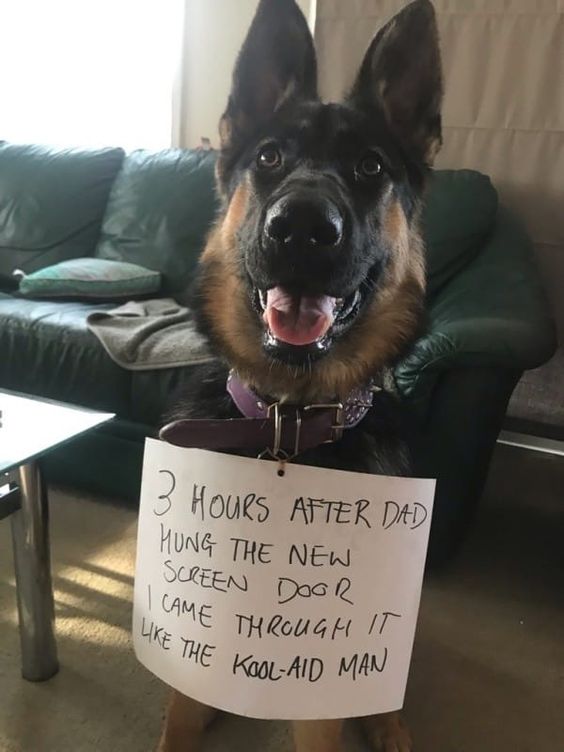 3 hours after dad hung the new screen door I came through it like the Kool-Aid man.
8. Mom Made Me Do It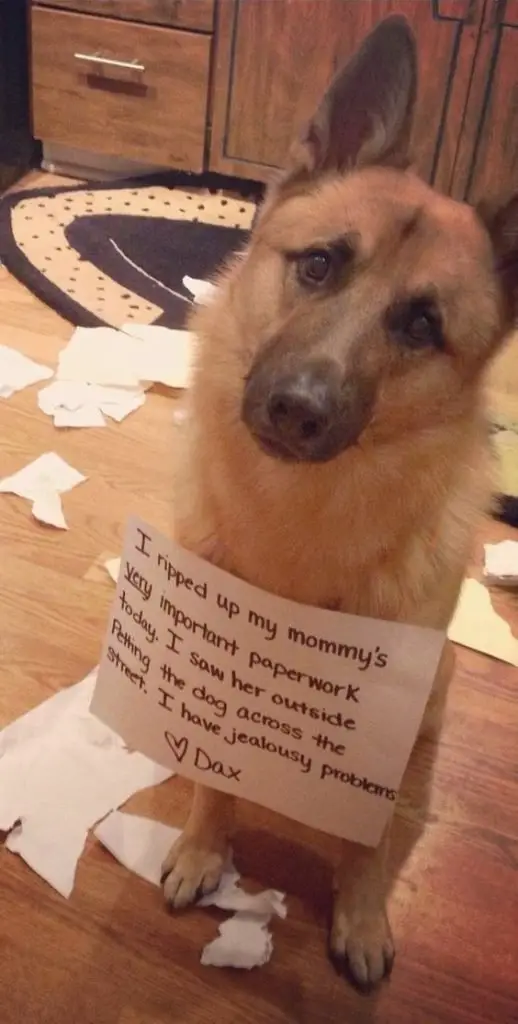 I ripped up my mommy's very important paperwork today. I saw outside petting the dog across the street. I have jealousy problems. Love Dax.
9. Heeere Kitty Kitty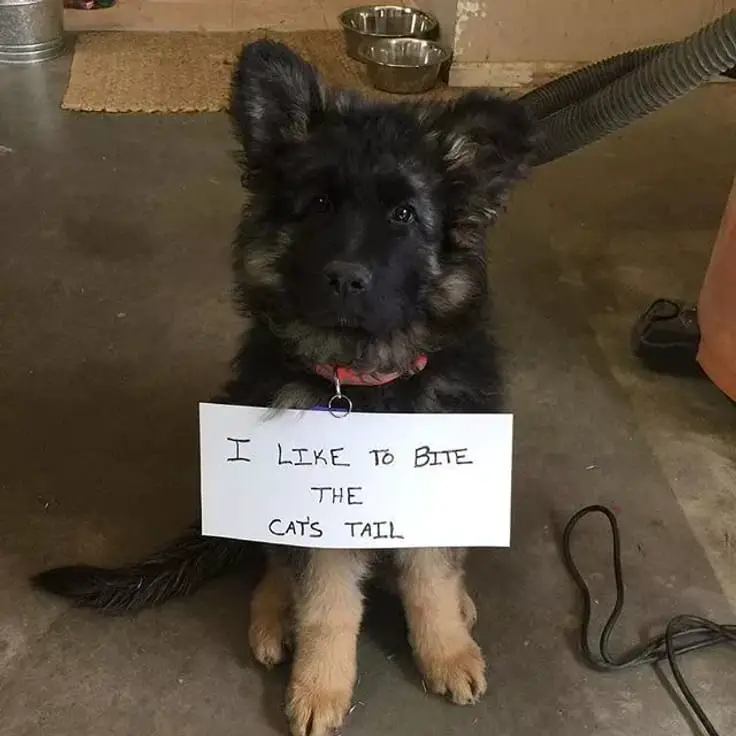 I like to bite the cat's tail.
10. Vacation Cancelled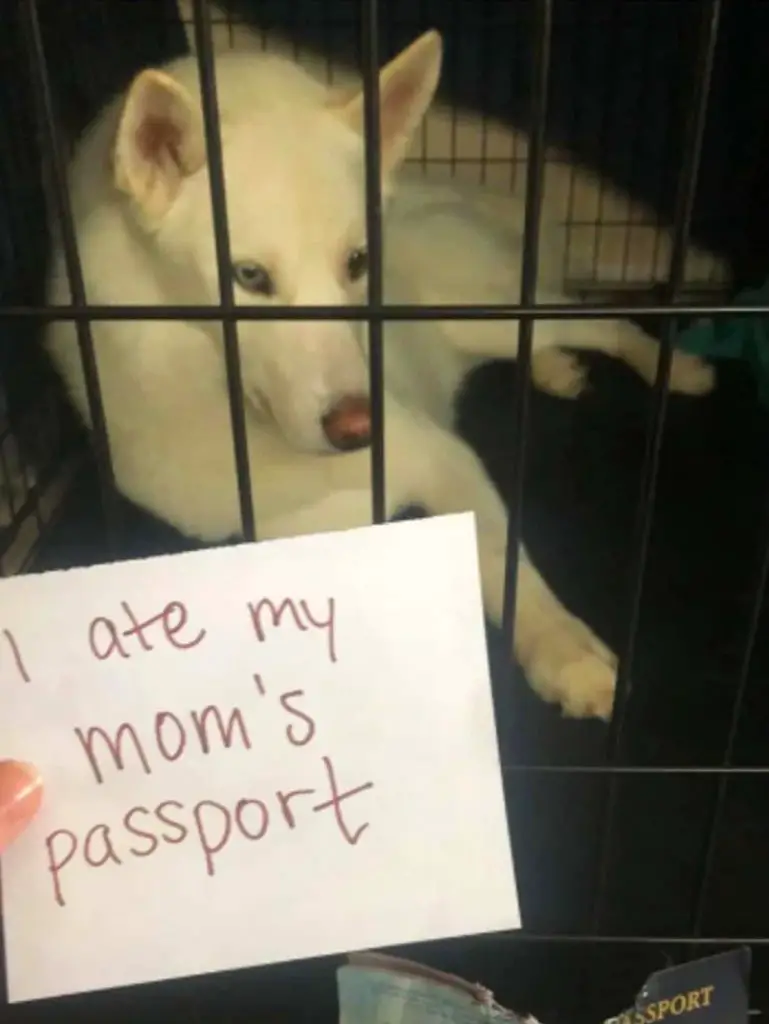 I ate my mom's passport.
11. Times Are Tough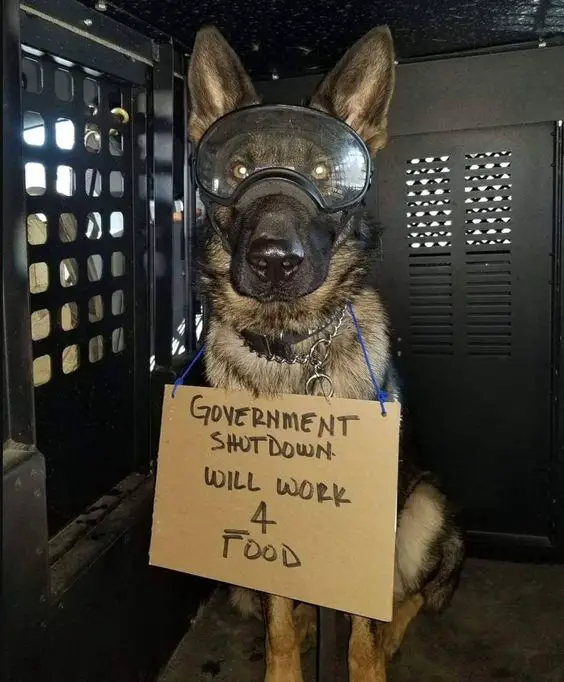 Government shutdown. Will work 4 food.
12. Oops!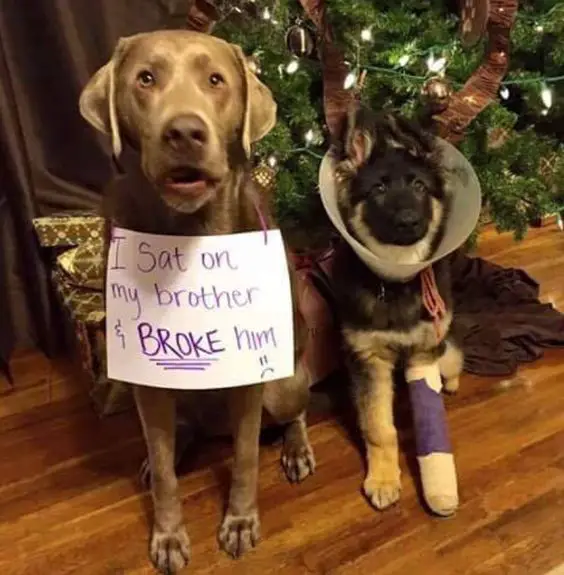 I sat on my brother and BROKE him.
13. Over Friendly
I figured out how to open the tent. I like visiting the other campers at night. My humans had to clip the zippers together.
14. Leftovers are Delish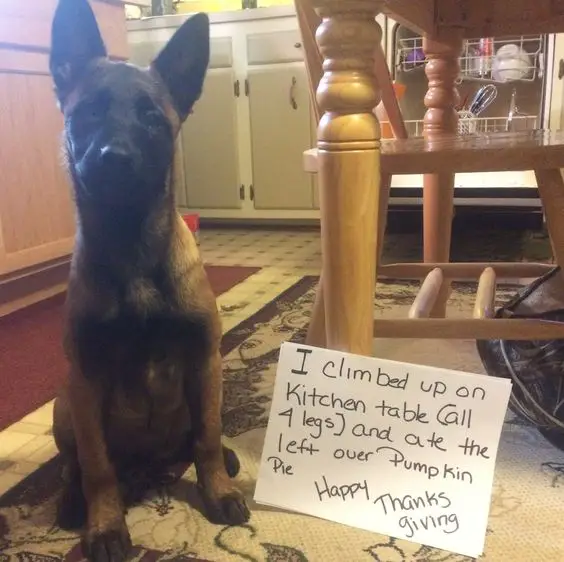 I climbed up on kitchen table (all 4 legs) and ate the leftover pumpkin pie. Happy Thanksgiving.
15. Puppy Eyes Will Get Me Outta This Jam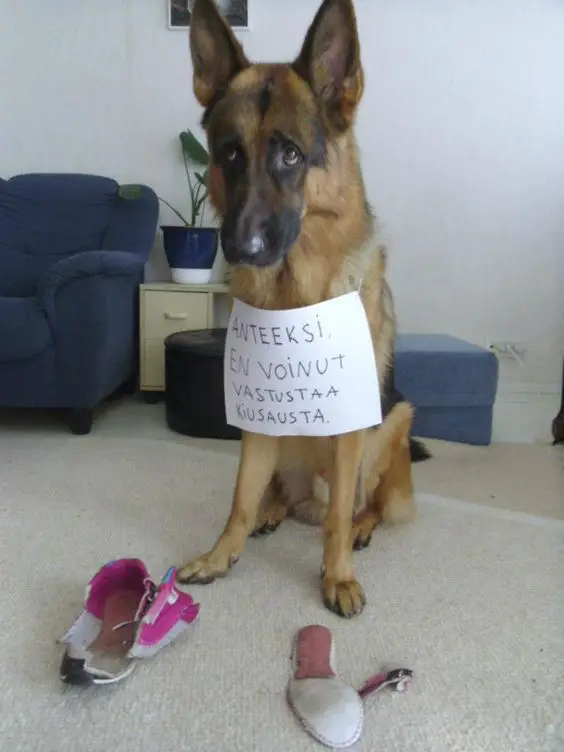 Sorry, I couldn't resist the temptation.
16. I'm Still A Good Doggo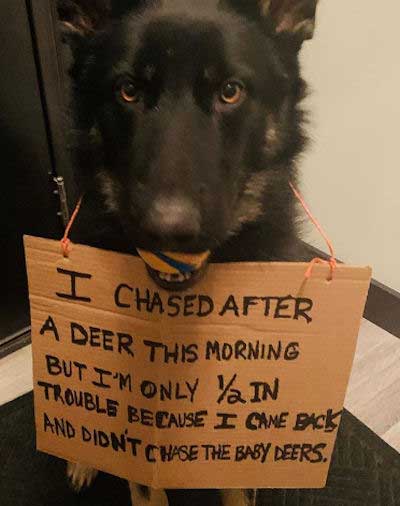 I chased after a deer this morning but I'm only half in trouble because I came back and didn't chase the baby deers.
17. Welcome to Disappointments Kid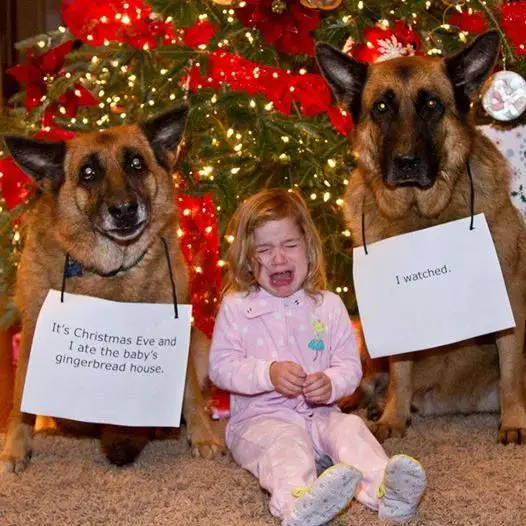 It's Christmas Eve and I ate the baby's gingerbread house.
I watched.
18. When Panic Sets In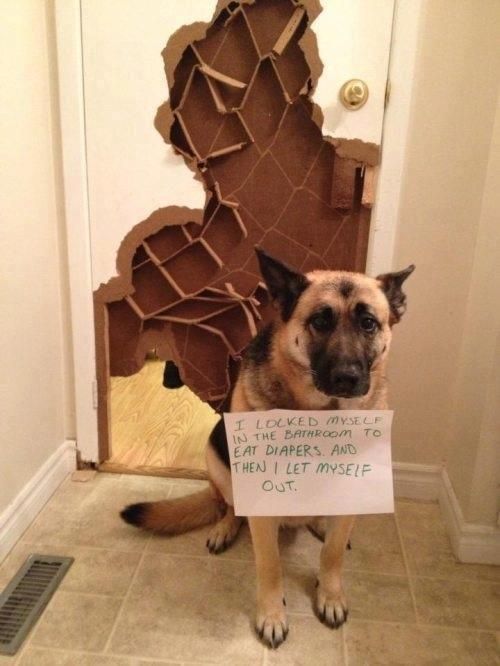 I locked myself in the bathroom to eat diapers, and then I let myself out.
19. You're Welcome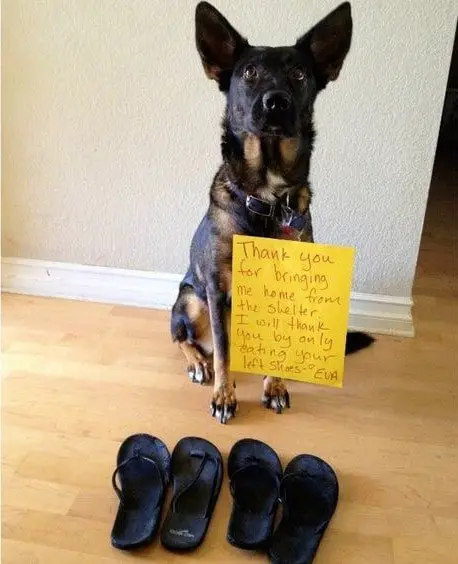 Thank you for bringing me home from the shelter. I will thank you by only eating your left shoes. Love Eva.
20. Probably Not Getting Invited Back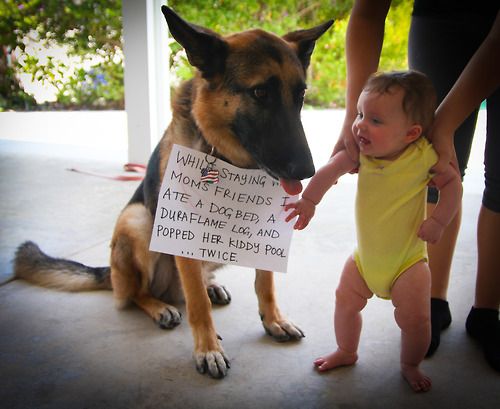 While staying at mom's friends I ate a dog bed, a Duraflame log, and popped her kiddy pool…twice.
21. Clean-Up in Mom's Room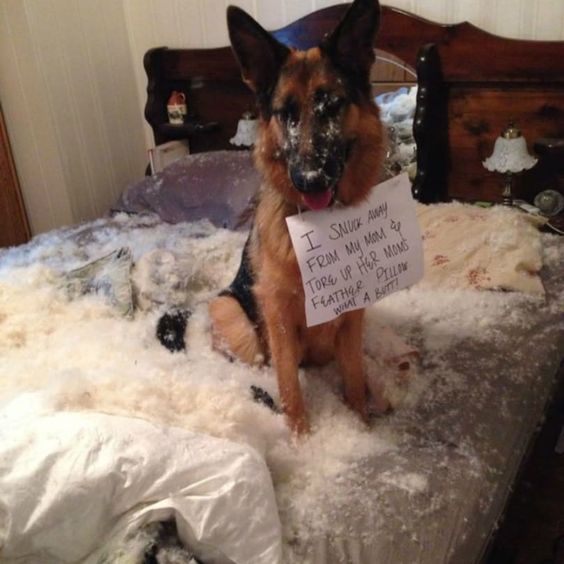 I snuck away from my mom and tore up her mom's feather pillow. What a butt!
22. The Elf Must Die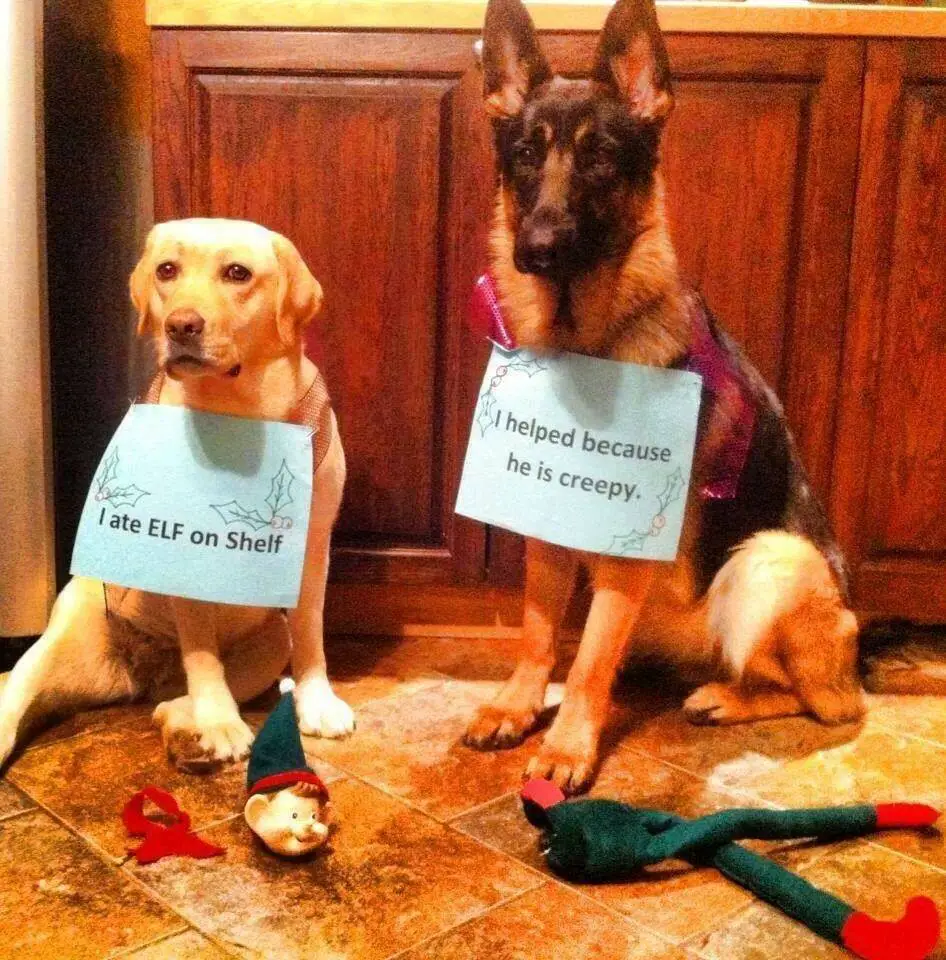 I ate Elf on Shelf.
I helped because he is creepy.
23. Not Sorry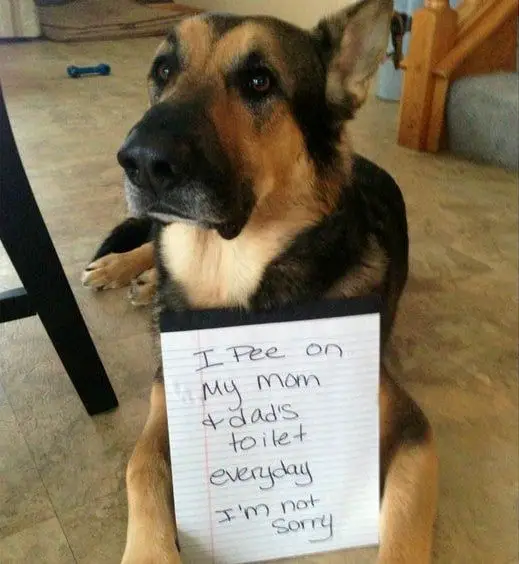 I pee on my mom and dad's toilet every day. I'm not sorry.
24. Repeat Offender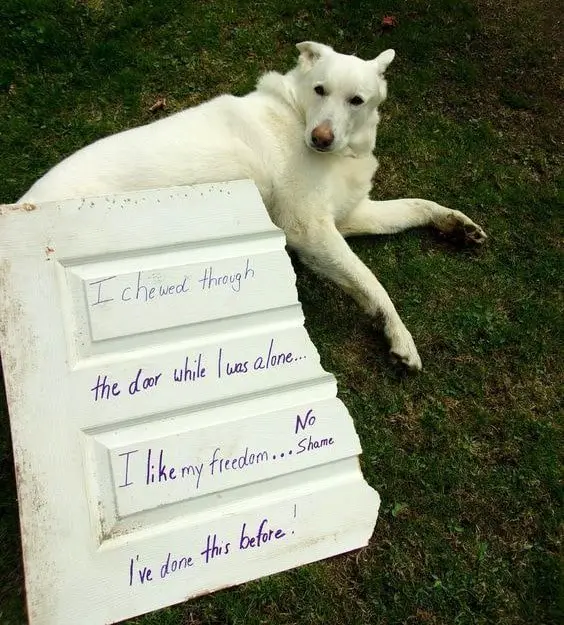 I chewed through the door while I was alone…I like my freedom…No shame. I've done this before!
25. Finger Lickin' Good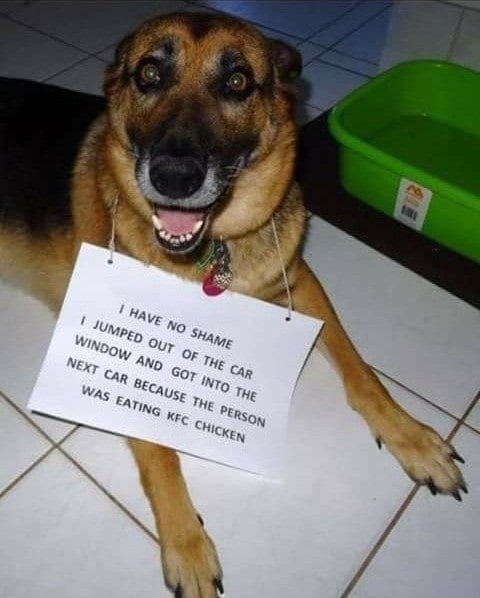 I have no shame. I jumped out of the car window and got into the next car because the person was eating KFC Chicken.
26. I'm the Baby
I knocked over my mom's baby plants. I'm her only baby.
27. On a Roll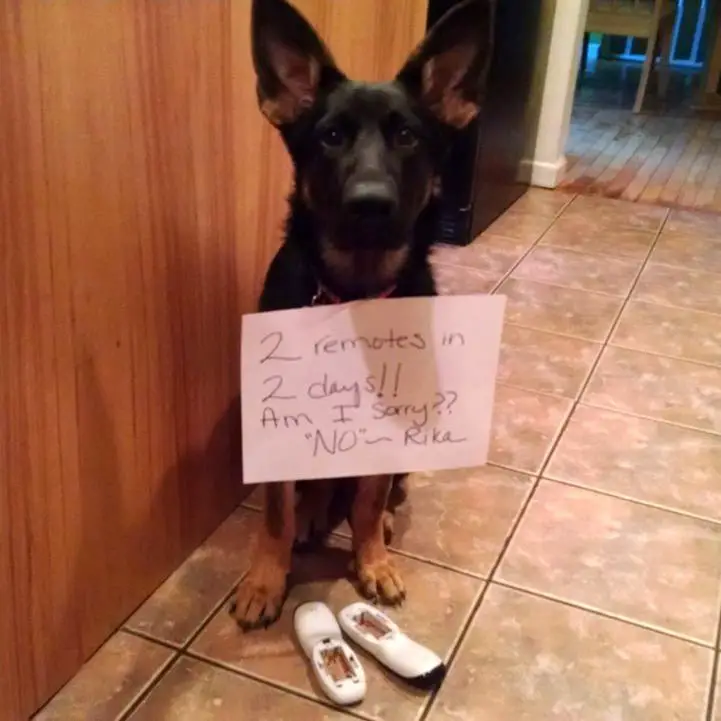 2 remotes in 2 days!! Am I sorry? "NO" ~ Rika
28. Butt I Can't Help It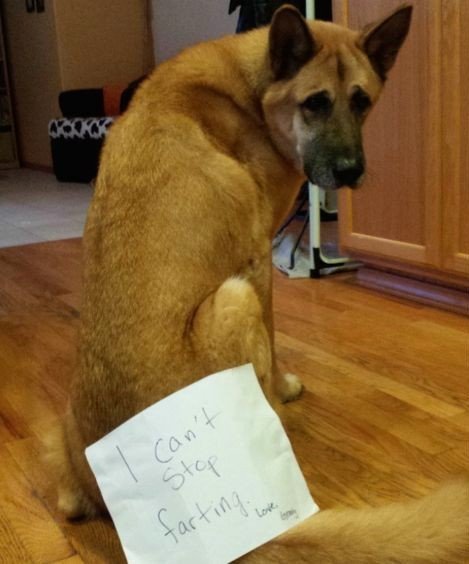 I can't stop farting.
29. Destruction of Company Property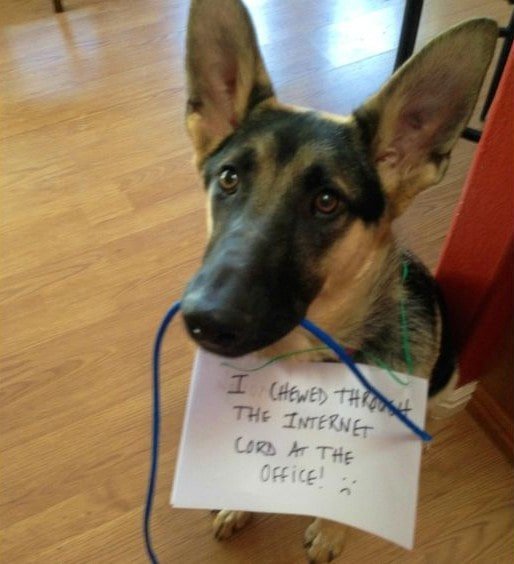 I chewed through the internet cord at the office!
30. Executive Decision Made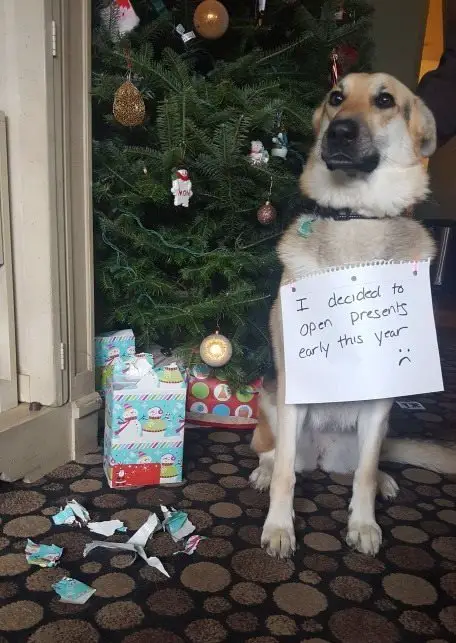 I decided to open presents early this year.
31. Minty Fresh Breath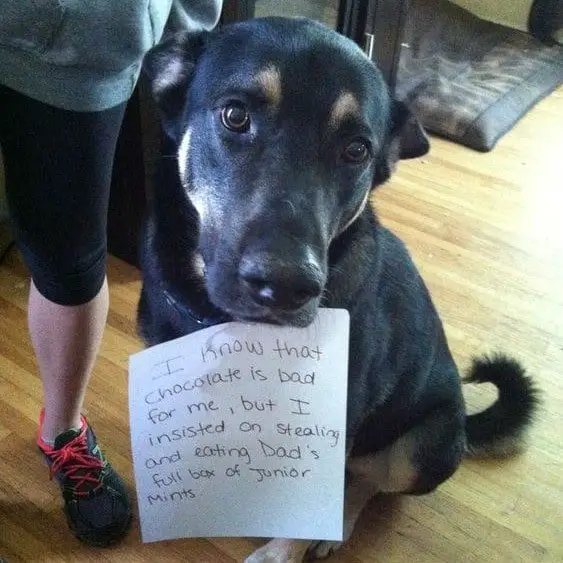 I know chocolate is bad for me, but I insisted on stealing and eating Dad's full box of Junior Mints.
32. I Would Do It Again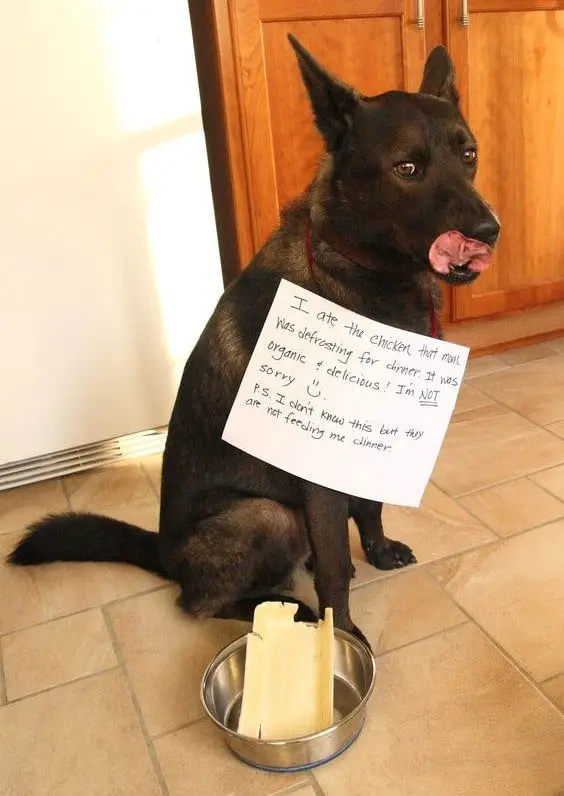 I ate the chicken that mom was defrosting for dinner. It was organic and delicious! I'm NOT sorry. P.S. I don't know this but they are not feeding me dinner.
33. Told You So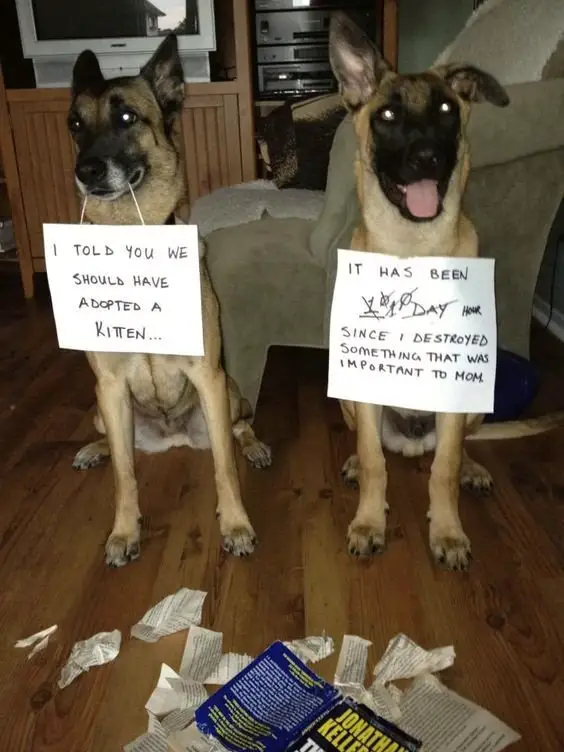 I told you we should have adopted a kitten…
It has been 1, 0, 1, 0 days since I destroyed something that was important to mom.
34. Don't Judge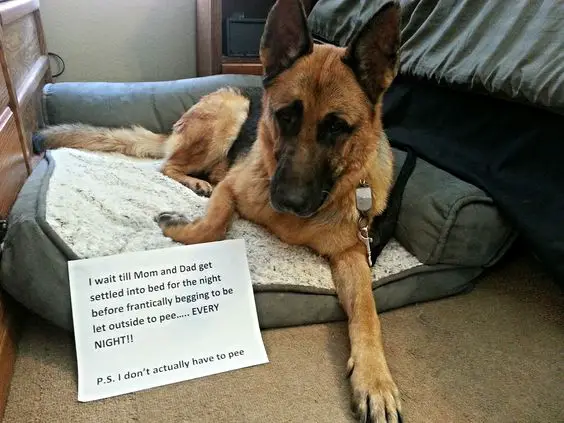 I wait till Mom and Dad get settled into bed for the night before frantically begging to be let outside to pee…EVERY NIGHT!! P.S. I don't actually have to pee.
35. Busted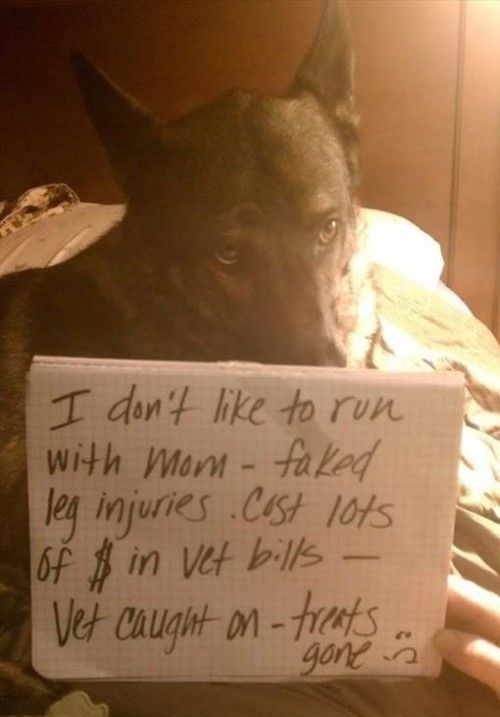 I don't like to run with mom – faked leg injuries. Cost lots of money in vet bills – vet caught on – treats gone.
36. Don't Ask Why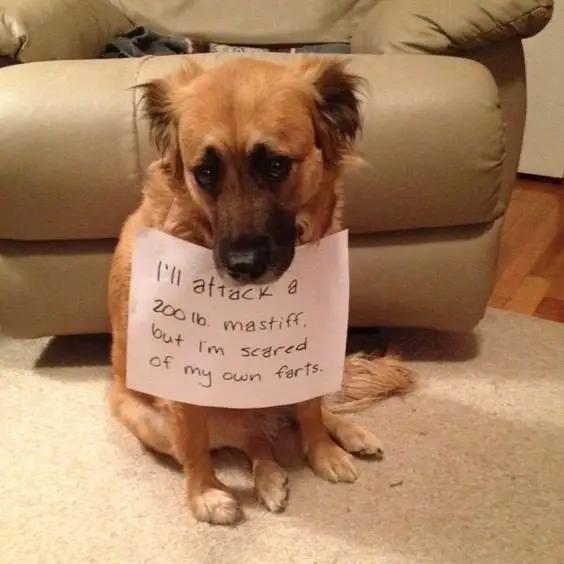 I'll attack a 200-pound Mastiff but I'm scared of my own farts.
37. Accidents Happen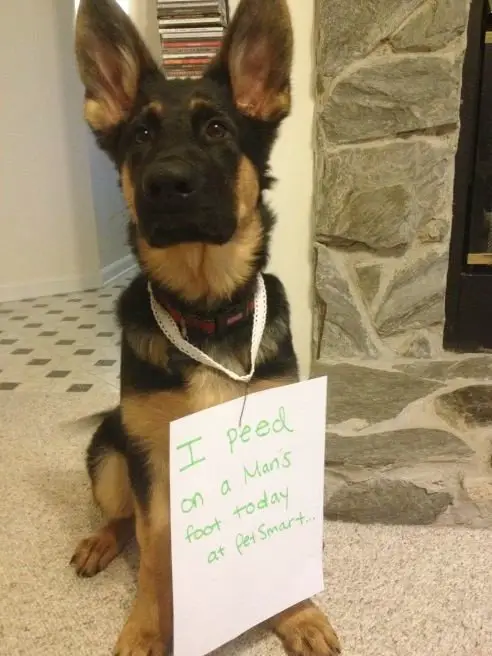 I peed on a man's foot today at PetSmart.
38. Seize Opportunity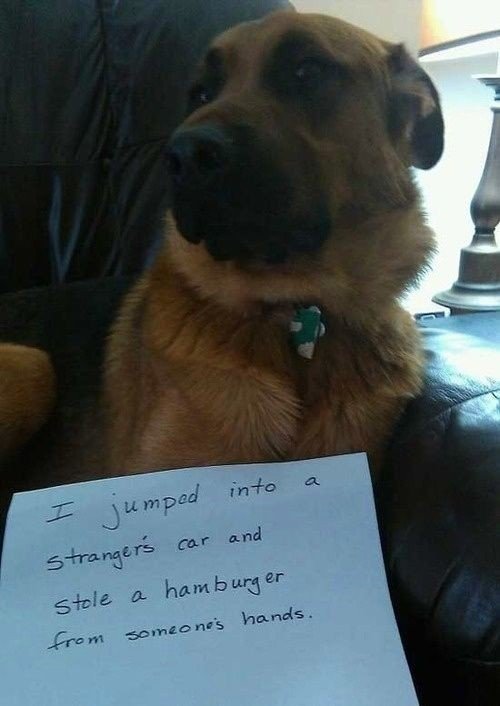 I jumped into a stranger's car and stole a hamburger from someone's hands.
39. Weigh-In Tactics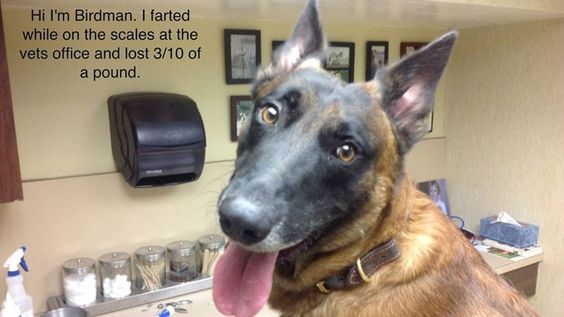 Hi, I'm Birdman. I farted while on the scales at the vet's office and lost 3/10 of a pound.
40. Rolo's for Dogs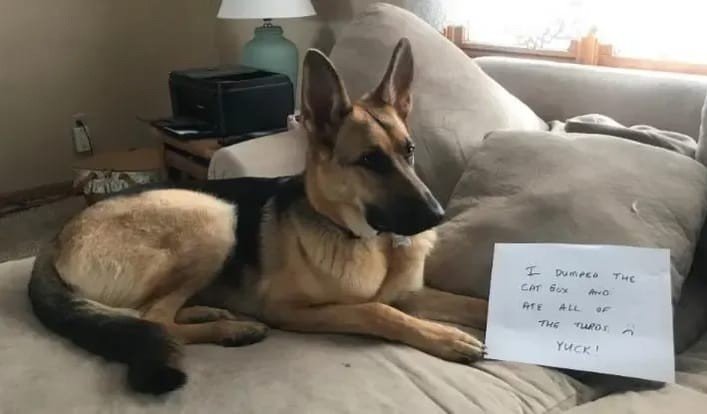 I dumped the cat box and ate all of the turds. Yuck!
41. Naughty but Cute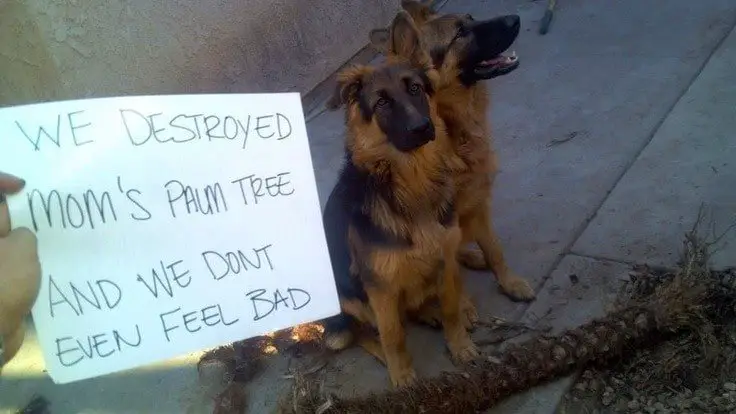 We destroyed Mom's palm tree and don't even feel bad.
42. Thankful – Gobble, Gobble
I ate the (raw) Thanksgiving turkey. I am thankful that it was delicious. I have no regret. ~ Maia
43. Sock Thief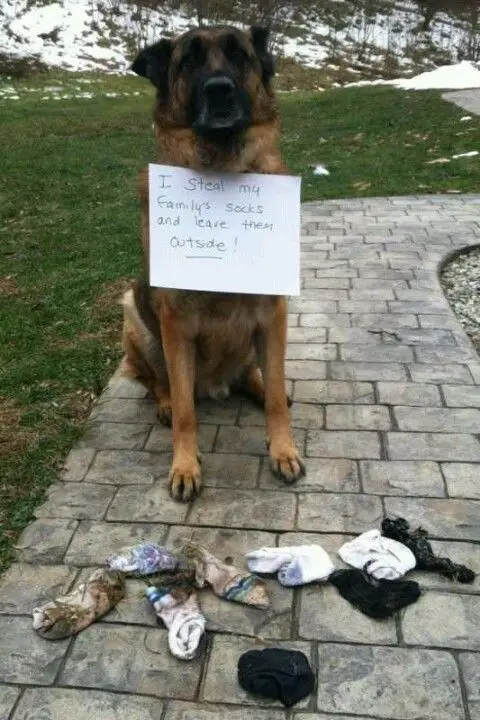 I steal my family's socks and leave them outside.
44. Frisbee Isn't my Jam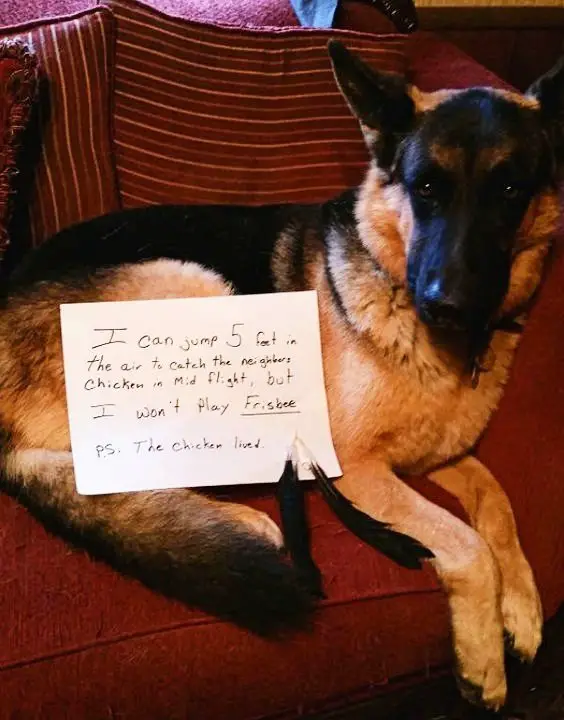 I can jump 5 feet in the air to catch the neighbor's chicken in mid-flight, but I won't play Frisbee. P.S. The chicken lived.
45. Hide the Evidence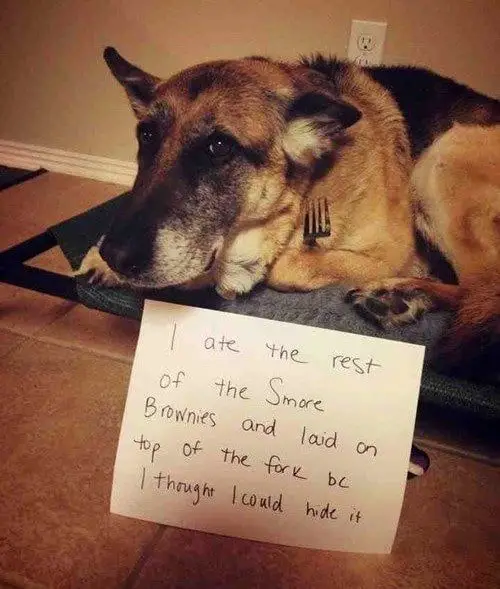 I ate the rest of the Smore Brownies and laid on top of the fork because I thought I could hide it.
46. Might Make Mom YouTube Famous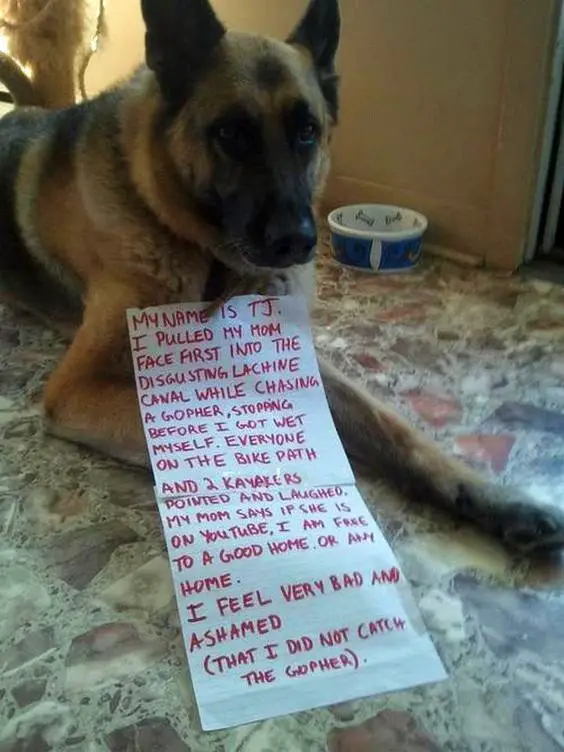 My name is TJ. I pulled my mom face-first into the disgusting Lachine Canal while chasing a gopher, stopping before I got wet myself. Everyone on the bike path and 2 kayakers pointed and laughed. My mom says if she is on YouTube, I am free to a good home. Or any home. I feel very bad and ashamed (that I did not catch the gopher)
47.  Not So Secret Fetish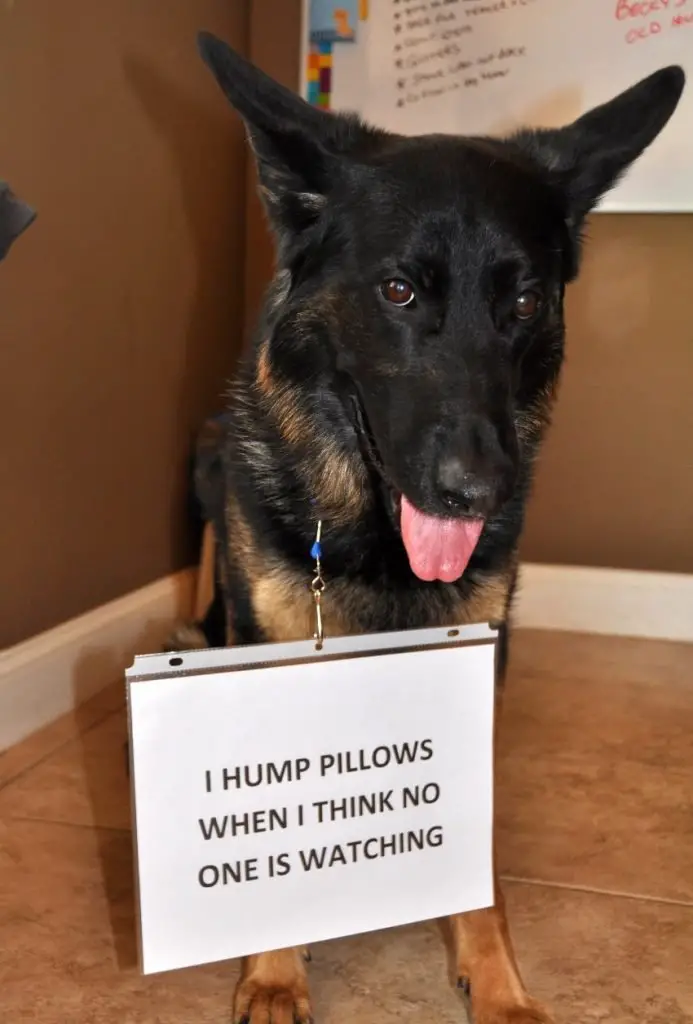 I hump pillows when I think no one is watching.
48. Bad Decisions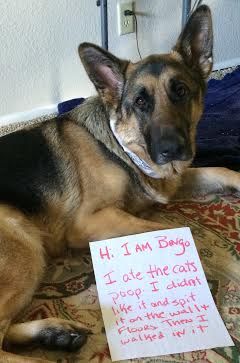 Hi, I am Bongo. I ate the cat's poop. I didn't like it and spit it on the wall and floors. then I walked in it.
49. Purchased Required
I peed on the people sock display at the doggie boutique in South Haven. Got caught and we had to buy them. Don't understand what the big deal was! P.S. They were Yorkie and Whippet socks. Jake Stahulak
50. Tattletale
My hoomans went out without me so I escaped the yard and ran a half-mile to my uncle's house to tell on them. – Callie
51. Squirrel 1, Dogs 0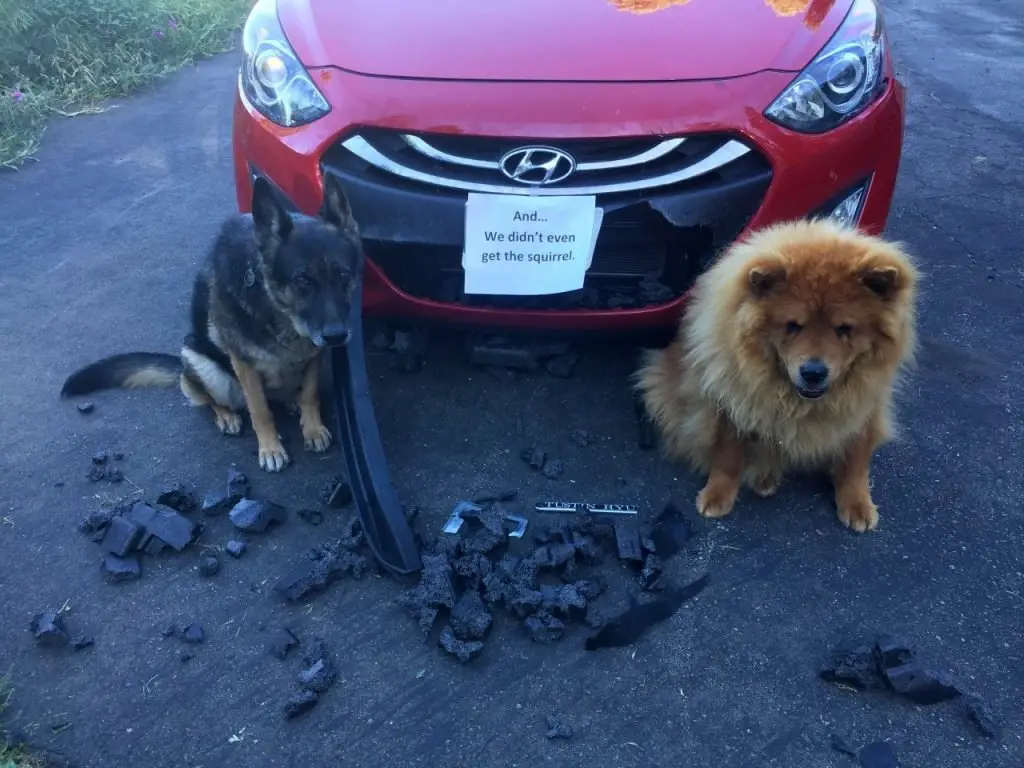 And…we didn't even get the squirrel.
52. Guilty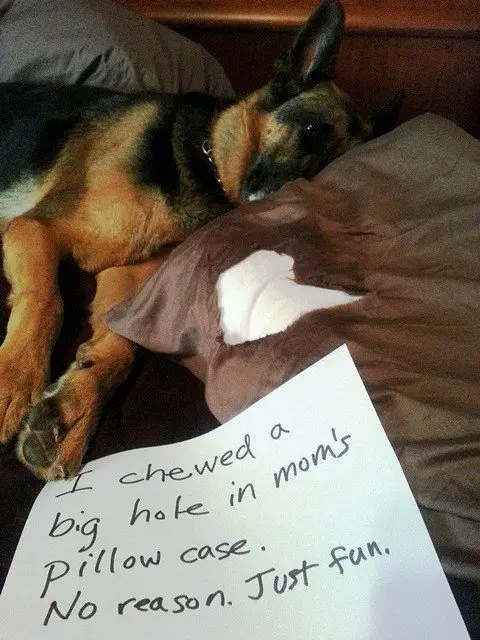 I chewed a big hole in mom's pillowcase. No reason. Just fun.
53. It's Wierd – I Know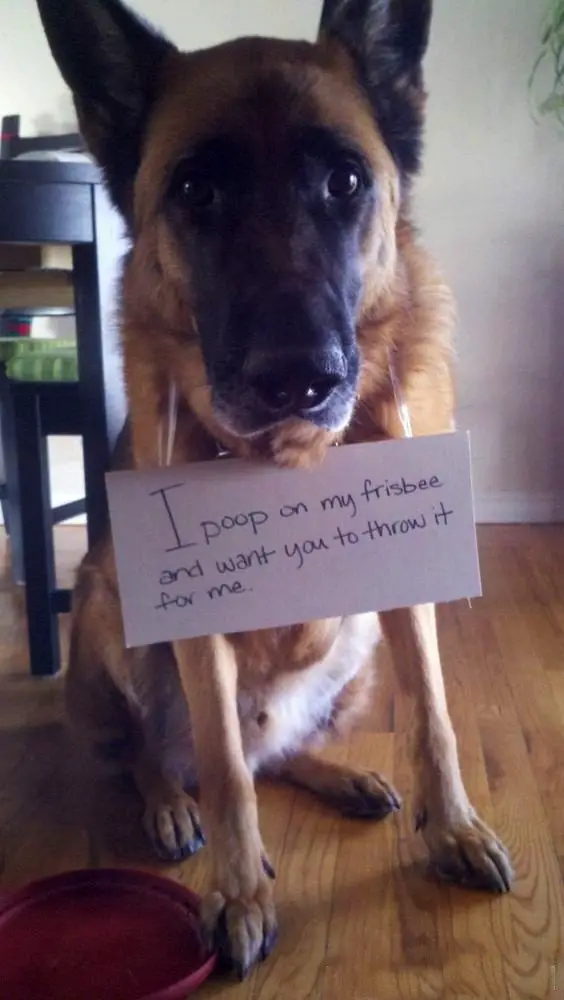 I poop on my frisbee and want you to throw it for me.
54. Out of Control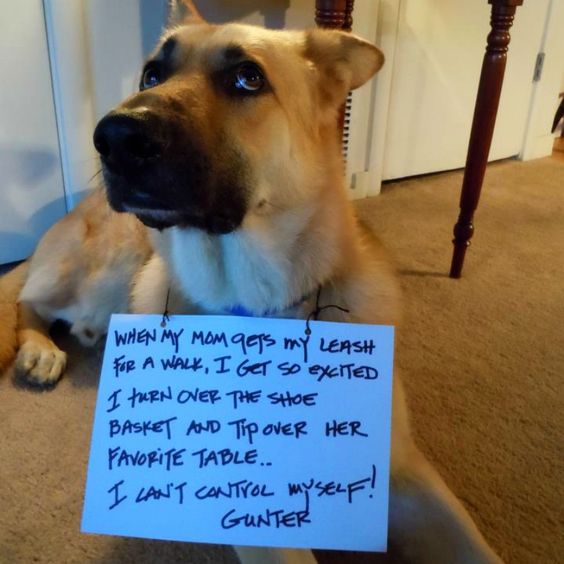 When my mom gets my leash for a walk, I get so excited I turn over the shoe basket and tip over her favorite table…I can't control myself! Gunter
55. Makes Sense to Me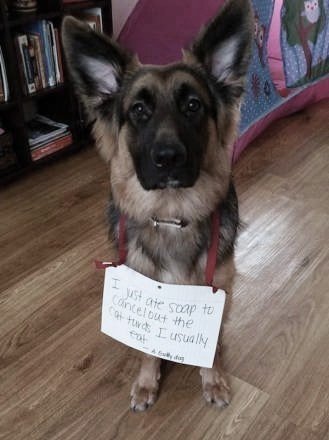 I ate soap to cancel out the cat turds I usually eat.
56. Fluff My Life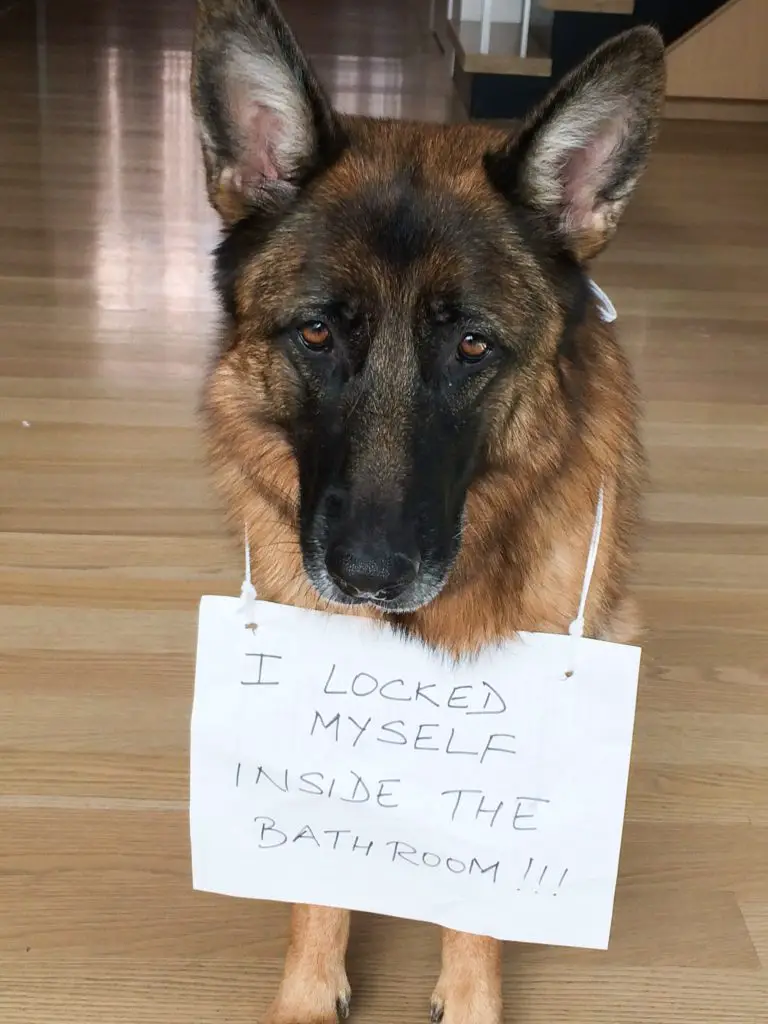 I locked myself inside the bathroom!!!
57. Electrical Issues Predicted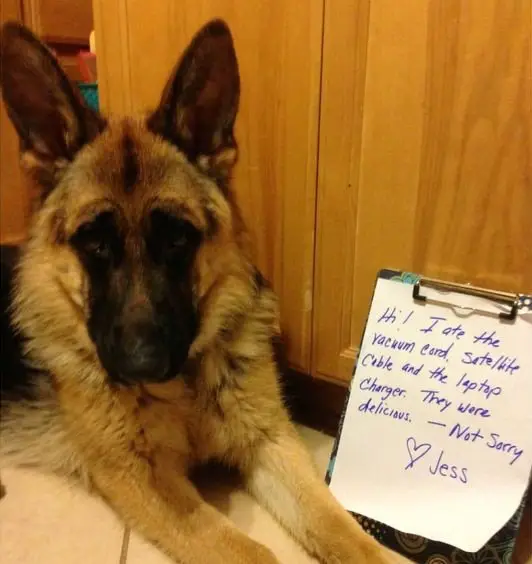 Hi! I ate the vacuum cord, satellite cable, and the laptop charger. They were delicious – not sorry. Love Jess
58. Pucker Up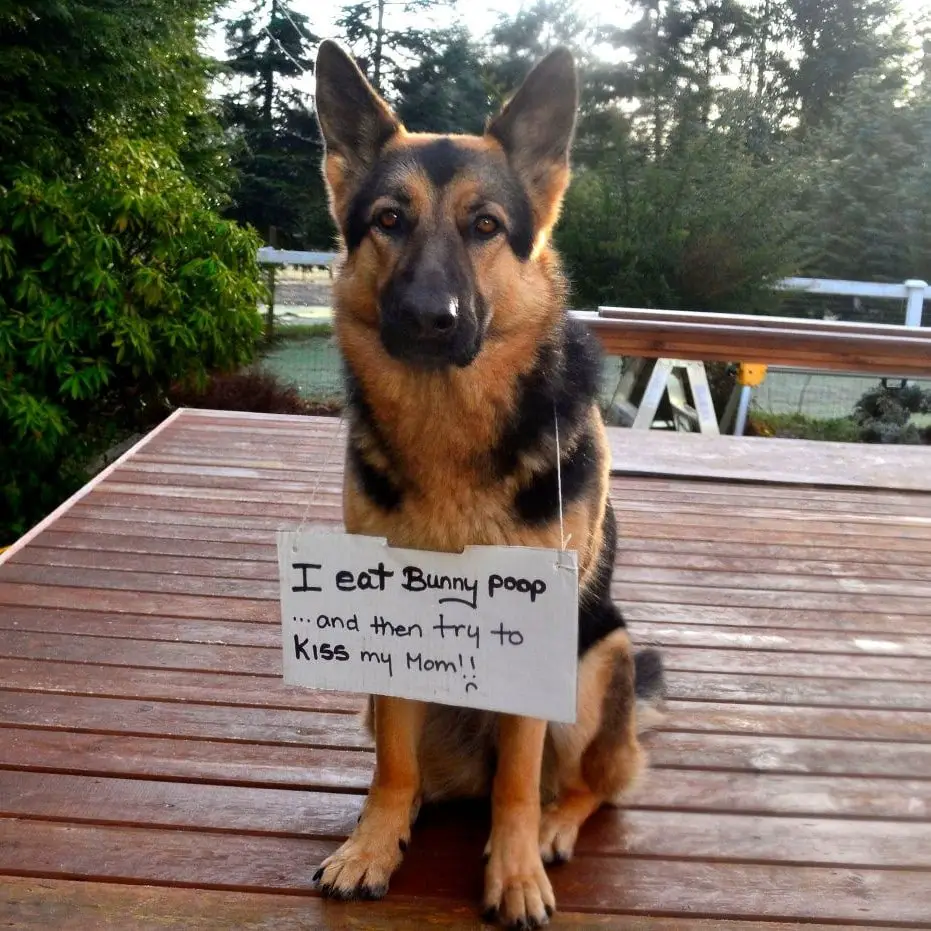 I eat bunny poop…and then try to kiss my mom!!
59. Meh
I am the reason we can't have nice things.
60. Working It
If I'm told "NO" to going outside I just pretend I'm throwing up!
61. Don't Go Daddy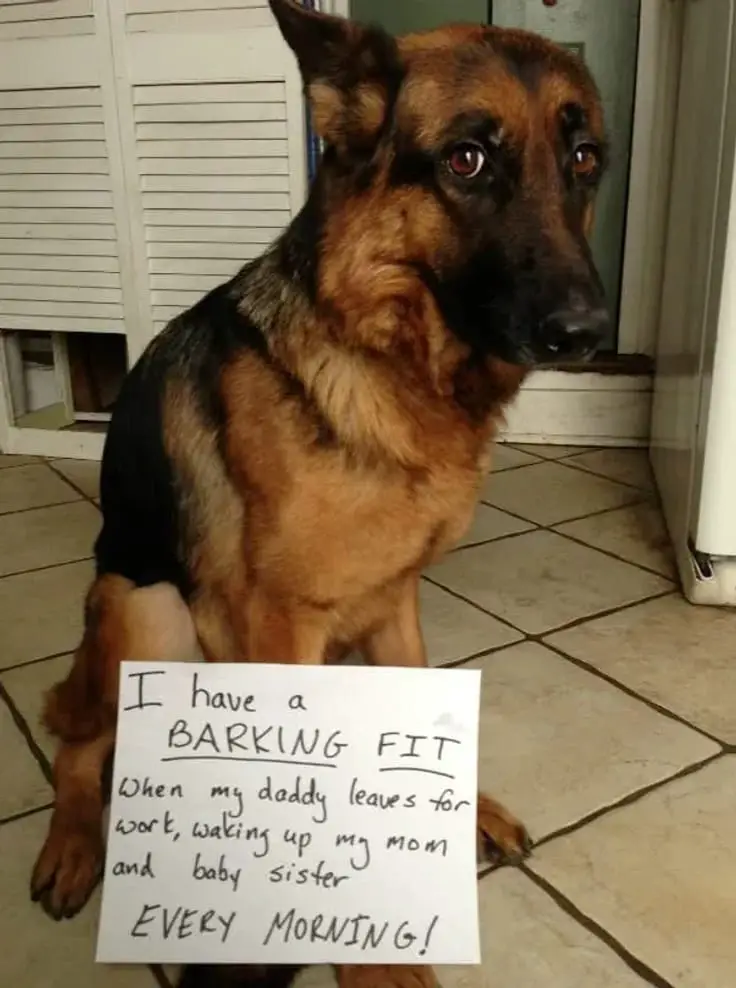 I have a barking fit when my daddy leaves for work, waking up my mom and baby sister EVERY MORNING!
62. Can't Make This Up
I farted and set off the carbon monoxide detector.
63. Counter Surfer Consequences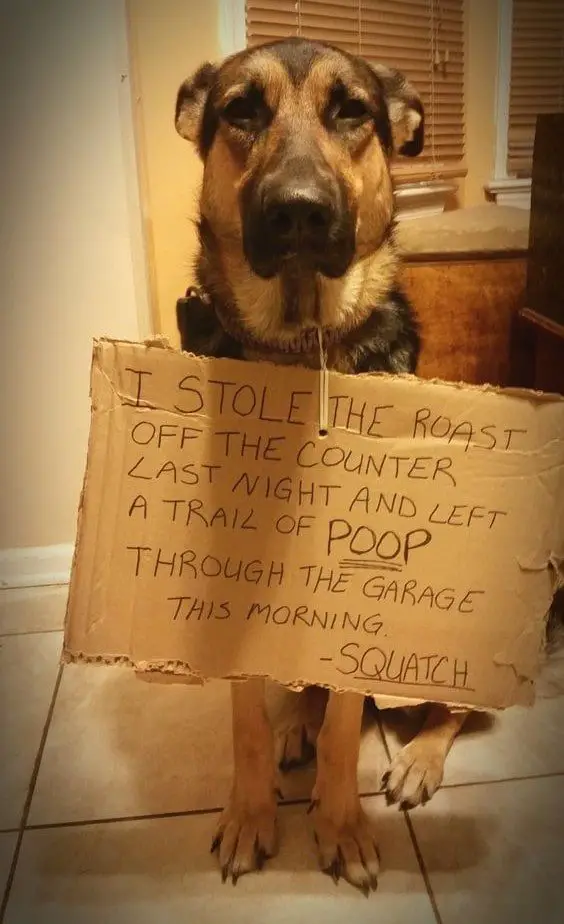 I stole the roast off the counter last night and left a trail of poop through the garage this morning. – Squatch
64. I'm a Helper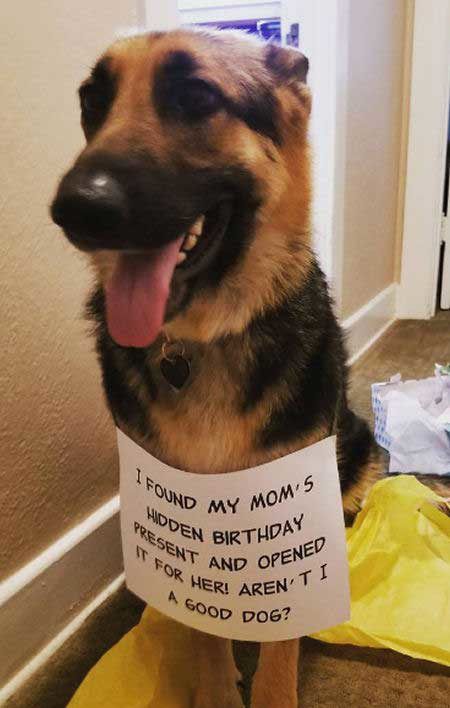 I found my mom's hidden birthday present and opened it for her! Aren't I a good dog?
65. Holidays are Overrated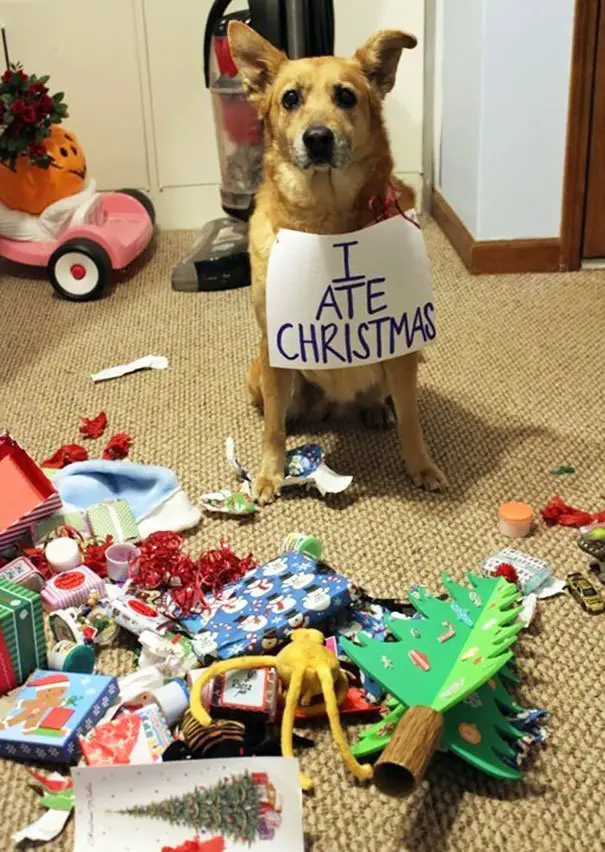 I ate Christmas!
66. Naughty but Cute
That'll teach you to leave me home alone.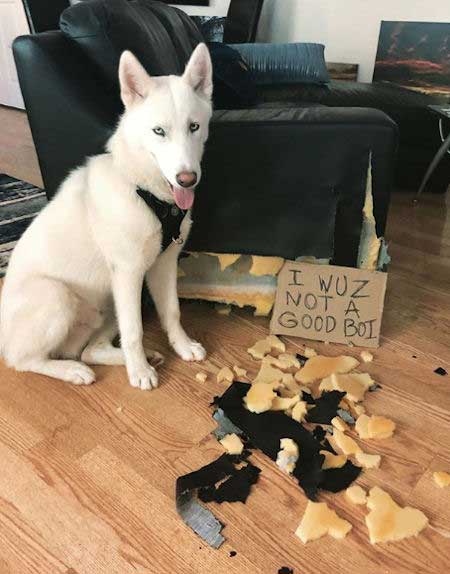 That'll teach you to leave me home alone.