On July 12, 2022, Stormberg Foods, Inc. recalled several varieties of dog treats due to potential Salmonella bacteria.
The products were distributed between June 8 and June 22, 2022. They were delivered mainly to CA, MN, NC, and RI warehouses and packaged.
The dog treats were then delivered nationwide to retail locations and customers.
Stormberg Foods Recalled Product Details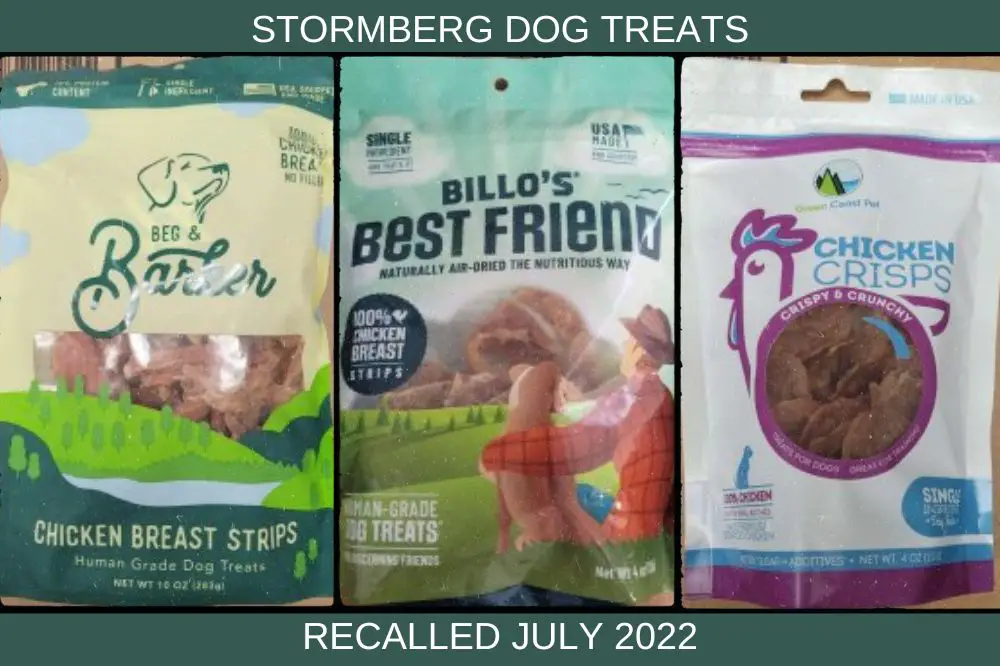 The UPC code can be found on the back bottom of each bag.
About the Stromberg Foods Recall
The North Carolina Department of Agriculture and Consumer Services (NCDA & CS) informed Stormberg Foods on July 6, 2022, that a sample they had taken had tested positive for Salmonella spp.
To determine what caused the issue, Stormberg Foods, and NCDA & CS are still conducting their inquiry.
To date, no illnesses have been reported.
The Food and Drug Administration has been informed of this recall.
About Salmonella
Salmonella can cause severe and sometimes fatal infections in infants, young children, older adults, pregnant persons, persons with cancer undergoing chemotherapy treatments, organ transplant recipients, and others with weakened immune systems.
Healthy persons infected with Salmonella often experience fever, diarrhea (which may be bloody), nausea, vomiting, and abdominal pain.
Customers should contact their health care provider if they have experienced any problems related to using these products.
Salmonella Dog Symptoms
Lethargic
Diarrhea
Bloody diarrhea
Fever
Vomiting
Decreased appetite
If your dog has consumed the recalled product and has these symptoms, please contact your veterinarian.
Recommended Steps for Consumers
If you have purchased these products, and/or have pets who have become ill, discontinue using the treats immediately. Contact stormbergship@gmail.com immediately with all product information for return or proper disposal information.
Consumers with questions may contact the customer services department via (919) 947-6011, Monday – Saturday 3:00 am – 9:00 pm EST, or by email 24/7.
U.S. citizens can report complaints about FDA-regulated pet food products by calling the consumer complaint coordinator in your area.
Or go to the FDA's "Report a Pet Food Complaint" page.
Canadians can report any health or safety incidents related to using this product by filling out the Consumer Product Incident Report Form.
🐾🐾🐾🐾🐾
h/t: dogfoodadvisor.com