After a ruff day, you may find yourself dog tired. To lift your spirits, how about a cold beer served by a cute bartender? Better yet, what if that cute bartender is a German Shepherd?
To all beer-drinking dog lovers, we've found the pawfect bar for you! The world's first bar staffed by dogs.
The Bar D'Alsace-tian in London hosted a one-night event on May 6, 2019, sponsored by Kronenbourg 1664 beer and staffed by German Shepherds.
Kronenbourg's roots are in Alasce, France, so it was a no brainer to staff the event with well-trained Alsatian dogs.
Reservations were required, and each table received two complimentary bottles of Kronenbourg 1664, bread, and cheese. The event sold out immediately.
You may be wondering how a four-legged waiter can serve beer and not spill a drop. Each dog wore a harness fitted with a lightweight miniature Kronenbourg barrel on the front.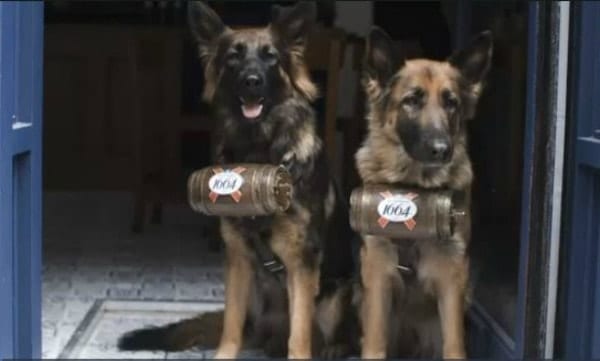 Inside of the customized barrel held a chilled bottle of Kronenbourg beer.
The promotional event by Kronenbourg was a tail wagging success. Do you find the idea of ordering your favorite drink from a barktender pawesome or pawful?
h/t Evening Standard, Bark Post, HeroViral
Featured Image via Evening Standard