Dog owners, please check your shelves for Member's Mark Beef Stick Dog Treats.
On November 16, 2021, Sam's Club of Bentonville, Arkansas, recalled Member's Mark Beef Stick Dog Treats because of the potential presence of metal material.
Metal fragments may cause cuts, blockages, or cause digestive issues in dogs.
Sam's West, Inc. has voluntarily recalled Member's Mark Beef Stick Dog Treats across all Sam's Club locations as a precautionary measure.
A limited number of customer reports about the product initiated the recall.
Member's Mark is a Sam's Club brand, but these treats are not restricted to purchasing only from Sam's Club. Other large retailers such as Chewy and Amazon carry these beef stick dog treats.
Here Are the Dog Treats Recalled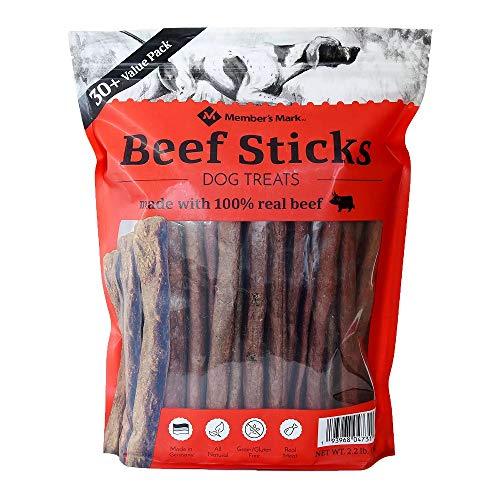 Member's Mark Beef Stick Dog Treats
Package Size: 2.2 pounds
UPC: 19396-804731
Date: All products sold since March 1, 2021
Recommended Steps for Consumers
If you have purchased the beef stick treats, discontinue use immediately. You can return the unused portion to any Sam's Club for a full refund.
Recommended Steps for Resellers
Sam's West, Inc. is requesting resellers of Member's Mark Beef Stick Dog Treats are being asked to contact and inform their customers of the recall.
Customer Support Information
Consumers with questions or concerns may contact Member's Mark customer service at 1-888-301-0332 from 7 a.m. to 11 p.m. CST Monday through Saturday and 10 a.m. to 8 p.m. CST on Sundays.
Sam Club members can get help through the Sam's Member Care Center via live chat at https://help.samsclub.com/.
U.S. citizens can report complaints about FDA-regulated pet food products by calling the Consumer Complaint Coordinator in your area.
Or go to the FDA's "Report a Pet Food Complaint" page.
Canadians can report any health or safety incidents related to using this product by filling out the Consumer Product Incident Report Form.
🐾🐾🐾🐾🐾