We all want to feed our dogs healthy and nutritious food they enjoy eating, but knowing what's healthy can be confusing.
My previous dogs ate what I fed them without issue. My current eight-year-old German Shepherd, Cozmo, has been a picky eater since I brought him home at eight weeks. Food has been an ongoing issue and a struggle.
Around the age of two, Cozmo began to scratch, lick, and chew obsessively. Through the process of elimination over the past six years, I've determined Cozmo suffers from allergies caused by environmental issues along with certain ingredients found in commercial dog foods.
The past eight years have taught me a lot about dog food, the dog food industry, and the relationship between healthy food equating in healthier, happier pets with longer lives.
Cozmo has tried just about every brand of high-end quality commercial dog food, but his interest quickly diminishes in the newest food. Through this long trial and error process, I finally realized that Cozmo doesn't like kibble.
This enlightenment led to my short-lived attempt to cook Cozmo's meals. It was too time-consuming for my lifestyle, and I was worried I wasn't meeting all of Cozmo's nutritional needs.
Raw food has been successful at satisfying Cozmo's picky palate, but for numerous reasons, I haven't felt this is the best option for my kid.
More research led me to natural diets made with fresh ingredients and individually customized for every dog.
After weighing the pros, cons, and prices of several companies, I have switched Cozmo to Spot and Tango.
Who is Spot and Tango?
Spot and Tango is a human-grade fresh dog food company based in New York.  Spot and Tango's mission is to improve your dog's health and wellness with nutritious and tasty meals.
Founder Russell Breuer begins to formulate homemade recipes for his Goldendoodle, Jack after the 2007 recalls of many popular commercial dog food brands.
Breuer initially shared his homemade food with friends and family. The positive feedback turned a weekend side hustle idea into Spot and Tango, which launched in 2014.
What is Spot and Tango?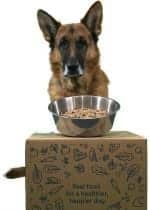 Spot and Tango is farm-fresh human-grade food personalized to your dog's breed, age, health, and activity level.
Spot and Tango is complete and balanced, formulated by veterinary nutritionists to meet the nutritional levels established by the Association of American Feed Control Officials Dog Food Nutrient Profiles for All Life Stages.
Spot and Tango is nutritionally balanced for dogs and pups of any age.
 Why Spot and Tango?
Ingredients are sourced from local US farms
Meal formulas consist of twelve ingredients I can pronounce
NO artificial additives
NO preservatives
NO fillers
NO by-products
NO hormones
NO antibiotics
Non-GMO
Meats are USDA Certified
Meals are human-grade certified
Food is cooked in small batches at low temperatures to maximize nutrient content
Food is packaged in BPA-free pouches and flash-frozen
Food is prepared days before shipment to ensure freshness
Eco-friendly packaging with 100% biodegradable insulation
Free shipping
Competitively priced
The only downside to feeding any fresh diet is cost.
Owners with large breeds or multiple dogs require more food. Their monthly food bill is often the deciding factor on the quality of food they feed their dogs.
Spot and Tango offer a Topper Meal Plan for budget-conscious pawrents or for owners who want to ease into a fresh diet. Add the topper to your dog's current food to give it a tasty nutritional boost.
*Spot & Tango Special for German Shepherd Country Readers*
50% off a 2-Week Trial Order
Use Code GSC50 at Checkout
Cozmo's Spot and Tango Review
Cozmo's Spot and Tango arrived well packaged, insulated, and frozen thanks to dry ice.
I placed three meals in the refrigerator to defrost, one meal on the counter to thaw, and the rest of the delivery went to the freezer.
Cozmo's first Spot and Tango meal was Beef and Millet. Cozmo watched suspiciously as I opened the package. I transferred the meal from the packaging to Cozmo's bowl and noticed it has a crumbled texture to it. It did not ooze out of the package from being wet or slimy.
I could see carrots, whole peas, egg, spinach, and cranberries. I also noticed Cozmo had approached the kitchen counter and was sniffing at his bowl.
Cozmo's normal meal routine (except for home-cooked meals) is to sniff at the food placed in front of him as if I might be poisoning him. He then takes a bite and drops it on the floor to conduct another sniff test. Then he proceeds to eat unenthusiastically picking at his food. He requires coaxing and encouragement to finish what's in his bowl and a reminder to clean-up the dropped food.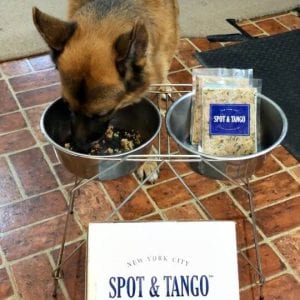 Cozmo's reaction to Spot and Tango was love at first bite.
My picky dog did no sniff test and didn't drop a morsel from his bowl. He stood at his feeding station and licked his bowl spotless.
Every time the refrigerator is opened throughout the day, Cozmo sniffs at his food and sits eagerly, hoping it's mealtime.
The Bottom Line
Like a typical kid, Cozmo cares about taste, not health benefits
I care about providing Cozmo the best I can because he is my kid, and he's worth it.
Feeding your dog quality and nutritious food is expensive.
What's more costly is veterinarian bills and the heartache of your best friend suffering from allergies or illnesses that might have been prevented through diet.
The cost of Spot and Tango is a small price to pay if it keeps Cozmo happy, healthy, and active as he transitions into a senior dog.
To learn more about Spot and Tango click Here
Check out our video review Here
Spot & Tango offers a money-back guarantee on a 2-week trial
Spot & Tango Special for German Shepherd Country Readers
Use Code GSC50 at Checkout
*Discount applies to new customers only*
German Shepherd Country is a brand partner of Spot and Tango. This review is sponsored by Spot and Tango.