Why Do Dogs Hump?
Do you have a dog humping other dogs, legs, toys, pillows, or even the air? This frisky behavior can be embarrassing for owners, but dogs don't have emotions attached to humping, nor do they feel awkward about the behavior.
A lot of people associate humping behavior with unneutered males. However, puppies and both sexes can display humping behaviors even if they are spayed or neutered.
Humping and mounting will be used interchangeably in this post.
8 Reasons Why Dogs Hump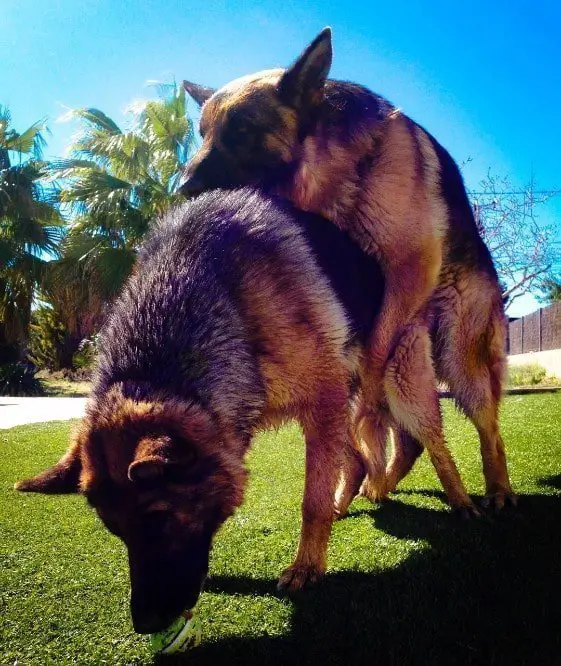 1. Reproduction 
The obvious reason dogs hump or mount is because it's a sexually motivated instinct required for reproduction.
Unneutered males around spayed, or unspayed females are often a walking hormone wanting to mount the female for sexual purposes.
Female dogs will also engage in sexually motivated humping or flirtatious body language like play bowing, a raised tail, or constantly putting their rear in the face of a male.
Females that engage in sexual behavior commonly do it during their heat cycle to let the male know they are ready to reproduce. Spaying your female will diminish or at least decrease this sexually driven behavior.
2. Play
Mounting can be a gesture of play between dogs. Often a dog will mount another dog, and then a few minutes later, they will reverse roles with the original dog who was mounted now is the dog doing the mounting.
Dog's engage in this mounting play gesture because they haven't been taught not to. If the play mounting behavior isn't stopped, a dog will continue to do it.
3. Establishing Pack Structure
Dogs will mount other dogs to determine where they fit in a pack structure. Some dogs mount to observe another dog's reaction, while other dogs will mount to assert themselves as the more dominant dog.
Two dominant dogs, regardless of sex, seeking the top alpha dog position in the pack structure can lead to a dangerous altercation.
Mounting during play can start off innocently but can quickly escalate if one dog is unwilling to be submissive to the other.
4. Excitement
Humping can happen when dogs become overstimulated or overexcited. Humping is one way to release excess energy.
Some dogs become very excited when their people return home or when they are allowed to socialize with other four-leggers. Some dogs release their excitement through dog zoomies while others hump the closest available dog or object.
5. Stress and Anxiety
Humping can be a dog's go-to when feeling stressed or anxious to divert their attention and calm themselves down.
Like an excited dog, humping is a way to release energy for a stressed or anxious dog.
A stressed dog will have completely different body language than an excited dog. An excited dog's humping will be playful, while a stressed or anxious dog's humping will be more calculated.
A dog stressed by meeting dogs or humans is not likely to mount that dog or go to town humping a stranger's leg. A stressed or anxious dog will likely seek a favorite toy or pillow to hump.
6. Habit
Dog's allowed to engage in any behavior for whatever reasons will continue to do so out of habit.
Regardless of why your dog is humping, it becomes part of your dog's routine and habits if the behavior is allowed.
7. Attention
Humping can equal attention. A dog or pup humping a toy for the first time might be funny to an owner. This behavior is positive attention.
As the humping behavior turns into a habit, the owner is no longer amused and now scolds their dog or pup for the behavior. Humping now draws negative attention, but most dogs don't care. Attention is attention.
Make sure you give your dog or pup plenty of positive attention, affection, stimulation, and exercise throughout the day.
8. Health Issues
Health issues are rarely behind the cause of humping, but here are things that should be ruled out:
Urinary tract infections
Priapism
Skin allergies
How to Stop Your Dog from Humping
Spaying or neutering will decrease the urge for sexually based humping. However, dogs still may engage in humping behavior for any reasons listed above.
If your female isn't spayed, keep her under lock and key away from males during her heat cycle. She will instinctively be flirtatious and present herself to any willing and able male.
Unneutered males will instinctively want to mount females whether they are in heat or not. You, the owner, need to monitor and stop this behavior. Keep unneutered males away from females in heat to prevent accidents.
Alpha dogs will want to display their dominance with new dogs and may regularly want to remind dogs they live with of their top dog pack status.
As an owner, you need to recognize if you have an alpha dog and be ready to stop the mounting behavior before it starts. Body language indicators of dominance before the mount are:
Posturing over the back or neck of another dog
Tail held high and maybe moving slightly
The biting and holding of the neck area may occur
Mounting is next
To stop your dog or pup from humping, divert their attention to toys or treats and give positive reinforcement for the behavior you want.
Diversion tactics don't always work, and this is especially true when a dog has mounted another dog in play, dominance, or sexual behavior.
When diversion or distraction doesn't work, you, the owner, need to step in and stop the behavior.
Grab your dog or pup by their flat collar and remove them from the dog or item they are humping.
You have physically stopped the humping and diverted their attention. Have your dog do some quick obedience like sitting, down, and short recall. Now reward the compliant obedience with verbal praise, treats, and play. Interact and give your dog some positive attention.
Some dogs remain focused on the dog or item you physically removed them from and don't want to engage in obedience or play with you. Put these headstrong dogs in a quick five to ten-minute time-out.
A time-out can be a down stay, a kennel, or an area blocked off with gates. The point of the time-out is to stop all stimulation and let your dog calm down and reset.
When the time-out is over, engage them with positive attention and play.
Humping behavior becomes a habit, so the older your dog is, the longer it may take to change this behavior. Regardless of your pup or dog's age, be consistent.
Dog Humping Questions and Answers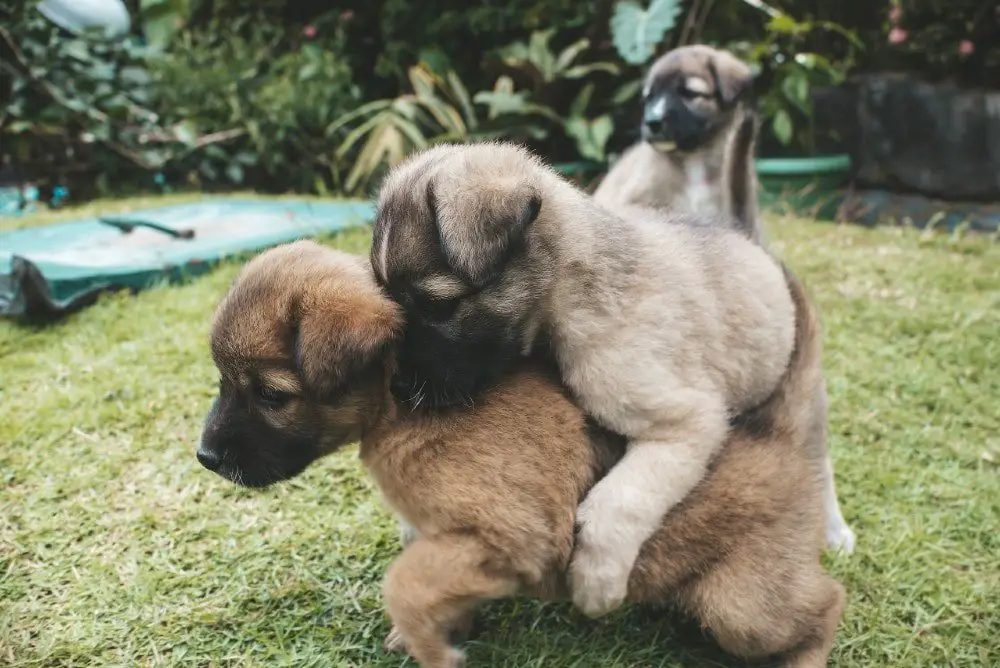 Why Do Puppies Hump?
Puppies as young as four weeks can display humping behavior. Humping at very young ages is a play behavior, and toys, pillows, and bedding are often the target. Pup's who hump legs are seeking attention.
Hormones kick in on most breeds around six months which can move humping from the play category to being sexually driven.
Is Dog Mounting a Sign of Dominance?
Yes and no.
Some dogs hump as a play behavior, and others hump when they become over-excited, stressed, or want attention.
Dog's also hump people and other dogs to establish their dominance or position within their pack structure. This pack structure can be within the home with people and other dogs, as well as the dog park or anywhere they have access to other dogs.
Why Do Female Dogs Hump?
Humping is normal dog behavior, and females can be guilty of humping as much as male dogs. Females can hump for sexual reasons, play, dominance, excitement, anxiety or stress, and attention.
Why Do Dogs Hump the Air?
Excitement is the main cause for a dog to hump the air. This excitement could stem from seeing another dog, having its human return home to them, or it could be sexual excitement.
Why Does my Dog Hump My Partner, Spouse, Child, but Not Me?
Your dog doesn't hump you because you have established yourself as the pack leader, or alpha, over them, and they respect this.
A dog humping other people in your house is caused by one of two reasons:
Your dog is excited to see your partner, spouse, or child and wants attention
Your dog is displaying dominant behavior and trying to place themselves above the other person in pack structure
Will My Dog Stop Humping After Neutering?
Neutering or spaying a dog is not guaranteed to end humping. It depends on your dog and the circumstances behind the humping behavior.
If your dog has been a walking hormone, neutering or spaying will definitely help. However, instinctively males still may try to mount females, and females still might enjoy teasing and flirting with boy dogs.
Neutering or spaying might help with a dominant dog, but generally, alpha dogs remain an alpha throughout their lives. It's a personality trait.
If your dog is humping due to excitement, play behavior, stress or anxiety, seeking attention, or out of habit, spaying or neutering your dog is not going to curb the humping.
Humping is a behavior that you, the owner, will need to stop.